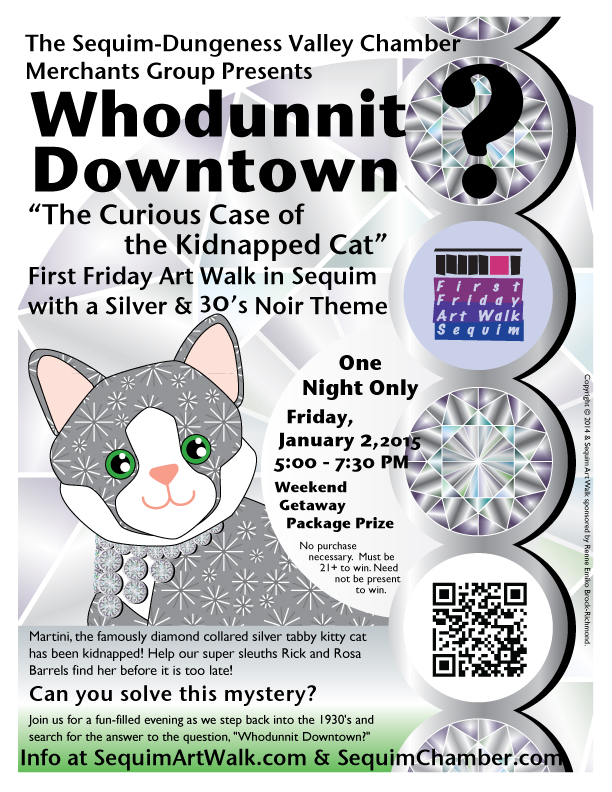 The Sequim-Dungeness Valley Chamber Merchants Group presents Third Annual "Whodunnit Downtown" with "The Curious Case of the Kidnapped Cat" during the evening where you can find clues at many venues with the opportunity to win a big prize 5 to 7:30PM. Martini, the famous diamond collared silver tabby kitty cat has been catnapped! Can you solve this mystery?
How to play: Each of the following businesses holds a clue that should help you solve tonight's mystery. When you have figured out who you think did this dastardly deed, go to the Sunshine Café and fill out an entry form for a chance to win our grand prize:
Two nights at John Wayne's Waterfront Resort
Gift certificate for the Dockside Grill at John Wayne Marina
Gift certificate for ???????
Get a game card, find the clues, make your guess, and drop your card in the prize entry box at The Sunshine Café at 145 W Washington St. by 7:30 PM for a chance to win. No purchase necessary. Must be 21+ to win. Need not be present to win. Winner drawn by random and prizes donated by local Sequim Merchants.
Everyone is encouraged to participate with the suspects, find clues at special venues, and enjoy this crime-solving mystery! If you want to, please dress the part with our Silver and 30's Noir theme. Discover clues at A Dropped Stitch at 136 S 2nd Ave., Hart's Fine Books at 161 W Washington St., Sunshine Café at 145 W Washington St., Wind Rose Cellars at 143 W Washington St., Colors of Sequim at 139 W. Washington St., Solar City's Tesa Boutique & Tanning Retreat at 135 W Washington St., Blue Whole Gallery at 129 W Washington St., Purple Haze Lavender at 127 W Washington St., Pacific Pantry at 229 S Sequim Ave., and Sequim Tea and Spice at 121 W Washington St.