To have heart, you need art! An evening filled with love, lots of live music, red apparel, passionate pursues, warm hearts, the virtues of fine wine, and sweet treats. February's First Friday Art Walk Sequim embraces RED as the theme color that represents heartfelt forte, vehement affection, driven leadership, active endeavors, and intense jubilation. It is also National Wear Red Day to increase awareness of heart health. You will find works of art and folks supporting the option to decorate and dress in all shades of red from blush to burgundy for the evening out on the town.
First Friday Art Walk Sequim is a fun and free self-guided tour of local art venues in Sequim on the First Friday of every month from 5 – 8 p.m. Visit online at SequimArtWalk.com as your resource to download and print your own map, find out what special events are happening, links, and how you can be part of art. Initiated in 2006, the First Friday Art Walk Sequim is an encouraging and educational arts event that is sponsored and produced by Renne Emiko Brock. Our mission is to create approachable and accessible art and cultural venues that encourage the community to connect and celebrate expression and diversity.
During the January 3 Art Walk, the community played "Whodunnit Downtown? – The Case of the Disco Trophy Hustle" Mystery Game co-hosted by Cedarbrook Lavender & Herb Farm and First Friday Art Walk Sequim and written by Renne Emiko Brock. Mister Marcus Mimas, the League of Dance Band Lobbyist, is who did the crime and our winner was Carole Calderwood of Sequim! Thank you to our suspects, CaptainCrystal Stout, Jeff Perry, Emily Westcott, Brian St. Ours, Lara Starcevich, Michelle Noonan, Scotland Noonan, and Matthew Gomez! Thank you for prizes from Cedarbrook Lavender Farm, Wind Rose Cellars, Dungeness Kids Co., Rainshadow Cafe, Peninsula Taproom, Sequim Community Makerspace, Design2Scan3D, and The Bag Ladies of Sequim, WA!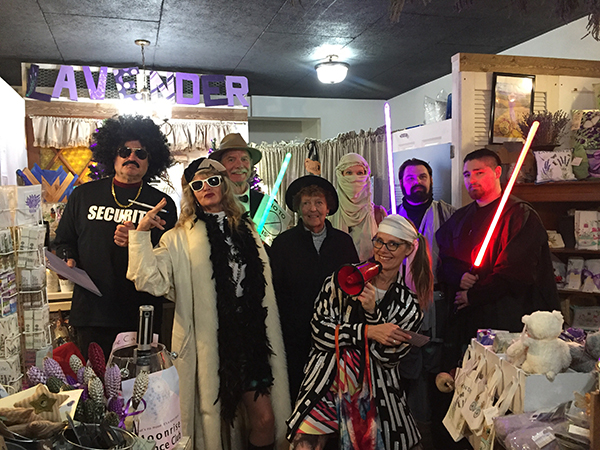 Special Events on February 7: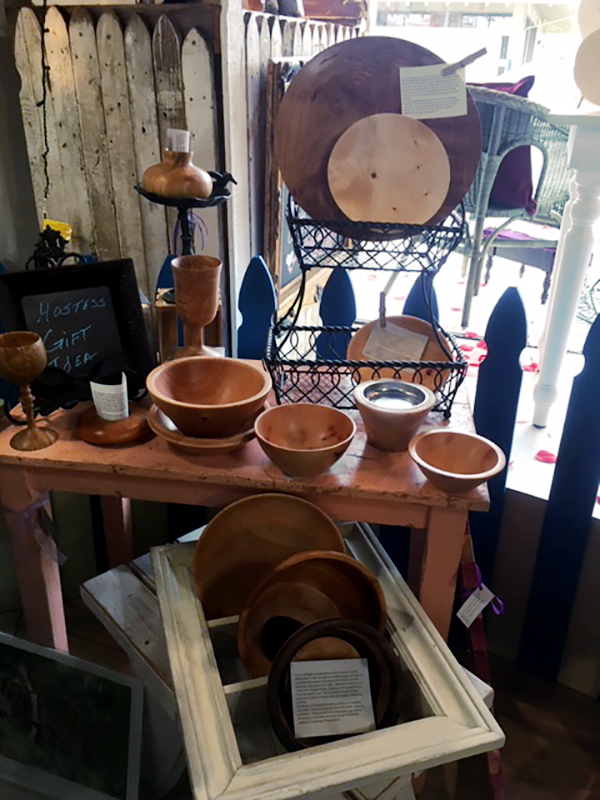 Cedarbrook Lavender Gift Shop has their ribbon cutting Grand Opening in their new location at 4:30 PM right before the Sequim Art Walk at 120 W Washington St. With refreshments, visit their featured artist Ted Lund. Ted's turned wood creations are made from salvaged maple, madrone, and fruitwood trees from the Sequim area. His proceeds from the sale of these items go the local Kiwanis Club, for projects benefitting children.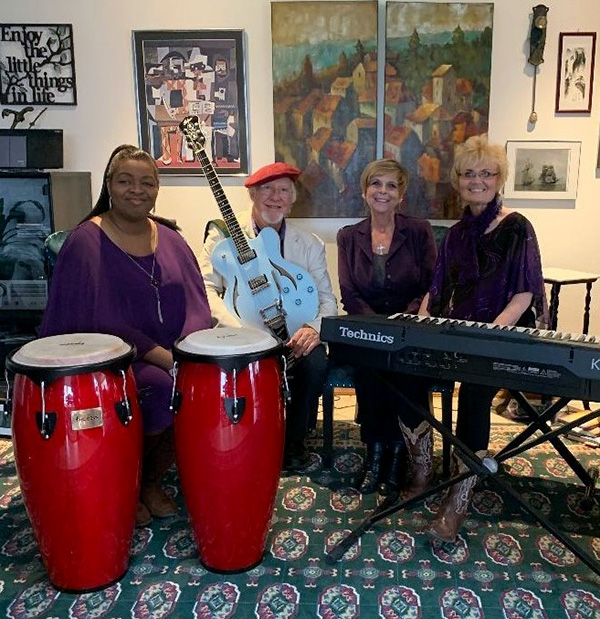 Olympic Theatre Arts welcomes Just in Tyme at 5:30 PM at 414 N Sequim Avenue. In 2005, Sandi Lockwood found her living in Sequim without a keyboard orchestra, so she re-designed herself and skills to create a live band, Just in Tyme. "At OTA we will be featuring songs from our latest CD which include popular hits from early Rock & Roll, R & B, Pop, and Latin Favorites," said Rich Crowell. "Rich vocal harmonies and dazzling arrangements abound." First Friday at OTA is always free to the public, where the snack and beverage bar will be open. Just in Tyme Band bios:
Mary Charles is a singer, song writer, and author. Throughout the years, she has had the privilege of studying under many teachers who were instrumental in showing her the incredible music paths that nurtured her desire to become a voice in her time. When one is to hear her sing, it has been said that she has a passionately distinct "sound" that sets her apart from all others as her voice reaches a place in the listener and touches the soul. Since Mary's musical style stems from many genre's, singing with the band 'Just In Tyme', where she plays congas on occasion, was a wonderful connection for the next musical progression in her life.
Debra Davis' musical experiences began in her own family, where growing up they sang together the hymns and gospel songs in church choirs and as duos and trios. As her voice matured she was often tapped for school and community programs. But you can't confine that sweet voice to a choir. So off she traveled with various R&B and Blues bands to play the Seattle nightclub scene. When asked for a comment about herself now, she coyly offered, "I feel so blessed being in this eclectic group that allows for vocalizing in All genre's."
Rich Crowell began pickin' and grinnin' at 13. Catching the wave of surf music, the British Invasion, blues, R&R, he traveled through Arizona and Northern California playing with dance bands. He switched from guitar to bass in college and spent the next few decades playing bass in jazz combo's. He went back to guitar 2000 and has enjoyed gigging in many styles and genre's.
Sandi Lockwood began her musical career as a pianist at age 4 and added organ at 6yrs. She had no idea where it would lead. Always ready to try something new and surprising, her delight rested upon the emerging synthesizer/keyboard. In 1985 she aligned herself with the progressives at Yamaha Int'l Keyboards who provided her opportunities to grow. Whereupon she engaged in a new musical entity: a Keyboard Orchestra. "Think a full symphonic orchestra with all sounds coming from digital synth keyboards. We wrote our own music and arrangements as well as receiving music from arrangers around the country." She led many youth and adult orchestras in CA.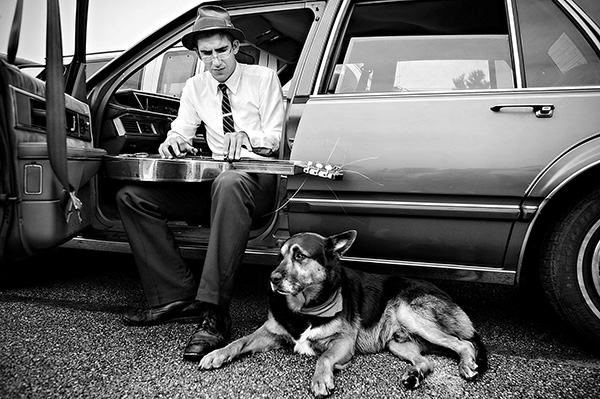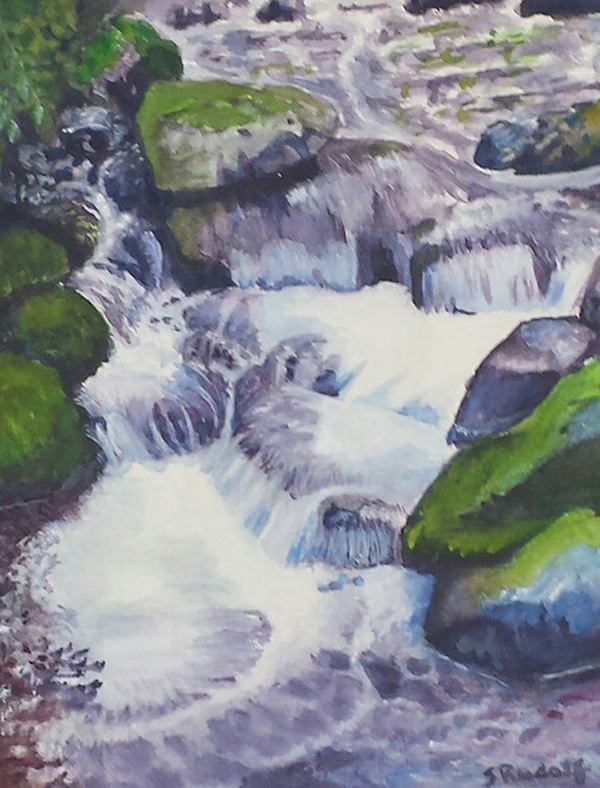 The Shaky Barbers will bring to the Sequim Branch Library of the North Olympic Library System (NOLS) at 630 North Sequim Avenue hosts the NOW (North Olympic Watercolorists) and live blues music by The Shaky Barbers. The music will begin at 6:30 PM, but come early to check out the new art on display and meet featured artists from North Olympic Watercolorists beginning at 6pm. Refreshments will be served and limited library services will be available during this free after-hours event. The new Art in the Library exhibit features watercolor paintings by NOW (North Olympic Watercolorists) and will be on display from February 7 through June 1. Featured artists include D.R. Anderson, Beverly Beighle, Rita Heywood, Janet Flatley, Shirley Rudolf, Roger Huntley, Judy Larimore, John Wilkinson, and Lyn Conlan. The Shaky Barbers will share their unique, original music for the lap steel guitar inspired by Hawaiian ragtime, Klezmer, and pre-WWII blues.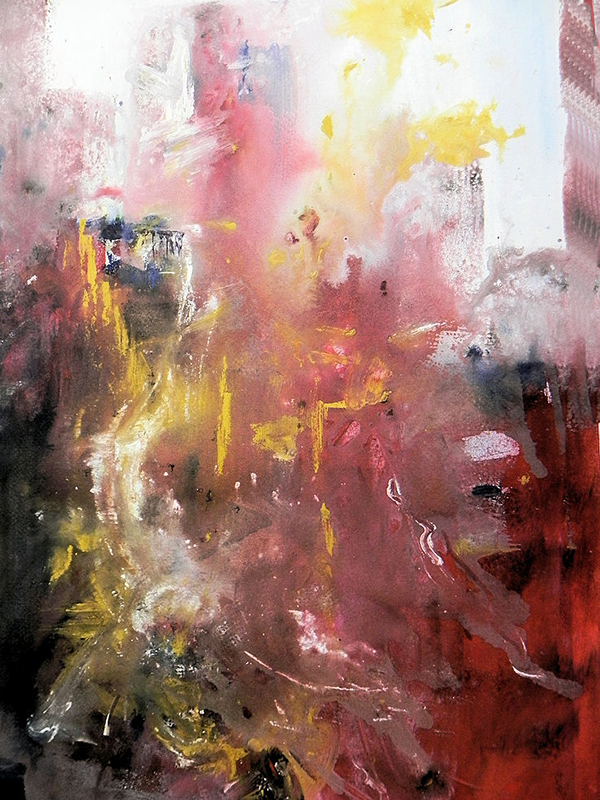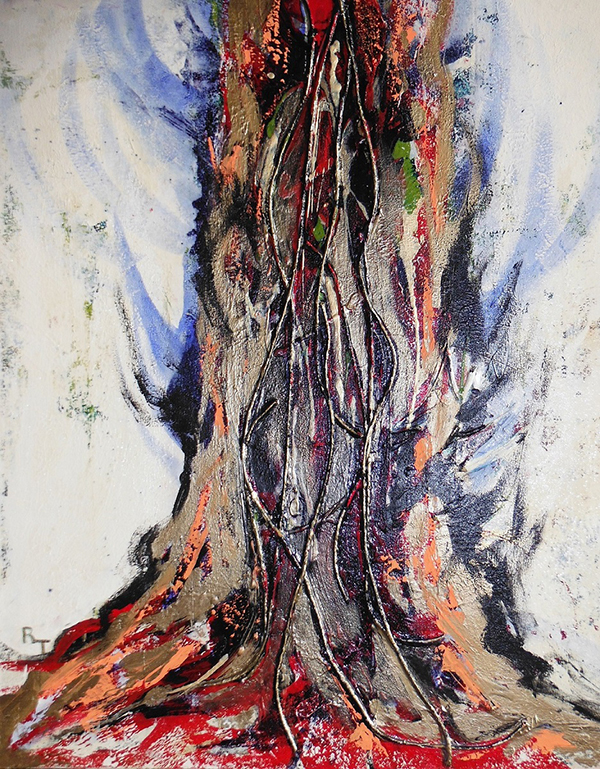 The Blue Whole Gallery at 129 W Washington St. presents the exhibition "Climate Change". From a little seabird caught between the needs of man and a changing ocean, to plastics, weather patterns, continuous melting at the earth's end to a tree of hope, the Blue Whole Gallery Artists tell stories of the effects of climate change. This dynamic show where art is grounded in the stories of today and curated by Joyce Volmut and Jeannine Chappell.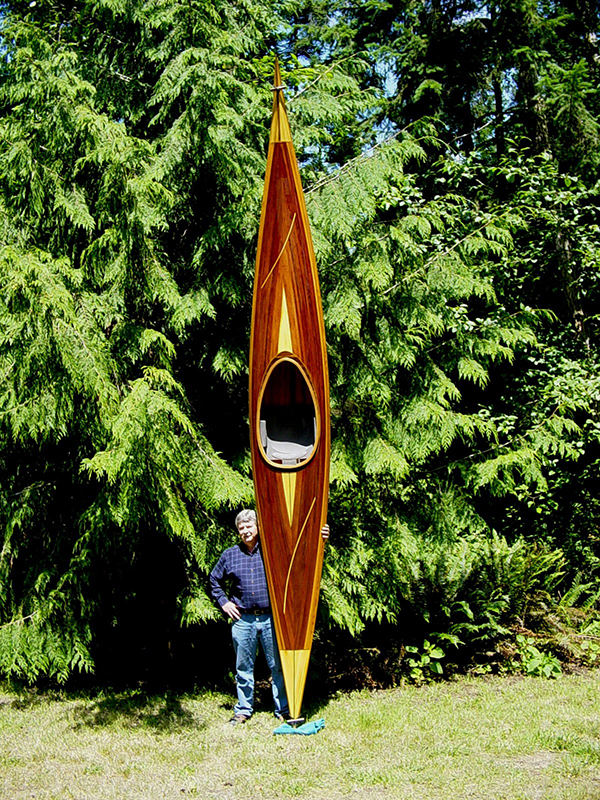 Sequim Museum & Arts at 544 N Sequim Ave. will be sharing their collection of historic pictures during the month of February in the Judith McInnes Tozzer Gallery. In addition, wood Artist Bob Stipe will bring one of his kayaks to display. Bob, who was born in the old Sequim General Hospital, is retired from the Army and worked with wood for decades. He purchased patterns for the boats, milled some of his own wood, including maple from a tree that grew near the log cabin where he was raised, and completed 2 kayaks. After helping a friend complete another, Bob and daughter Staci are working on her kayak when she visits from Louisiana.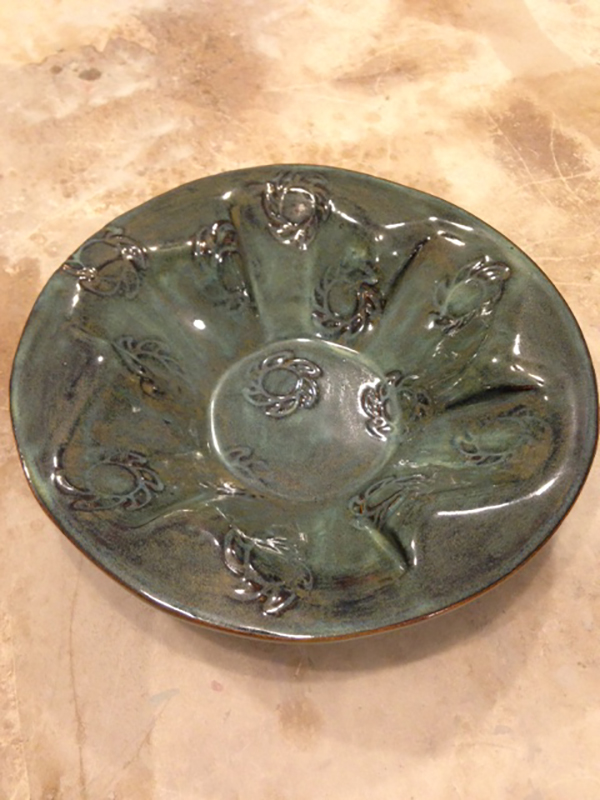 Design2Scan3D at the Spruce Building, 207 W Spruce Street will continue with their "Platter Matter" series and offer a few curious folks a chance to glaze a platter at the studio. No prior experience necessary. Platters have been fired once and are ready for your artistic touch. Must sign a waiver to participate. Completed platters will be displayed and may be purchased at the March Art Walk.
The City Arts Advisory Commission (CAAC) invites you to the opening of the "Illuminations" exhibit and artists' reception at the Karen Kuznek-Reese Gallery from 5:00 to 8:00 PM at the Sequim Civic Center, 152 W. Cedar Street. The artists represented are: Suzanne Anaya, Anna Blanchard, James Bowie, David Brownell, Kelcie Byrd, Diane Clementi, Sharon DelaBarre, Ines Epperson, Caryl Fallert-Gentry, Sally Franz, Rich Madeo, Melissa Mann, Mary Marsh, Bob Martinson, Evan Miller, Derek Moose, Vicki Naumann, Suzan Noyes-Mangold, Priscilla Patterson, Sally Raddock, Michael Reece, Melinda Reed, Morgan Stephenson, Ryoko Toyama, Anna Waldron, Nancy Wilcox, Sandy Wolf, and Igor Zusev.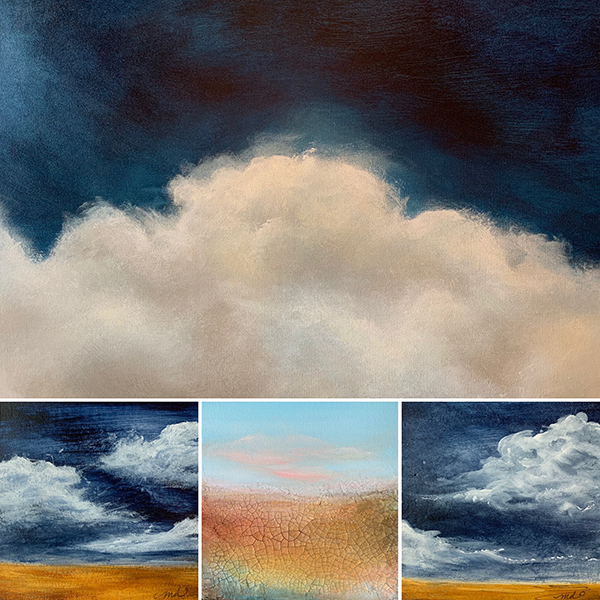 Wind Rose Cellars at 143 W Washington St. hosts visual artist and designer Makayla DeScala. Born and raised in the Pacific Northwest, she gains inspiration from the diverse and rugged landscape around her, drawing parallels between events in nature, like storms and seasons, with the human experience. Her newest collection of paintings will be featured at Wind Rose Cellars December-February and is a focused work on environmental cloudscapes. She explores variations in shape, tone, color and texture with the intent to showcase how they can alter and/or create mood and atmosphere. Primarily a painter working with acrylic paints and mediums, her pieces have been described as colorful and expressive. Simplicity, movement and color remain at the center of her work, making her collections versatile and desirable for various tastes. A graduate of Peninsula College's Multimedia program, Makayla credits the skills she learned there as well as the relationships she formed, as being crucial to her success as an artist. She currently sits on the Multimedia advisory board as a way to give back and encourage a new generation of creatives.
Want to participate as a venue or artist on the Official First Friday Art Walk Sequim Map, Listing, and Website, please contact Renne Emiko Brock at 360-460-3023 or renne@uniqueasyou.com If you are an artist of any media, please get your information to Renne for publicity and opportunities. Thank you!
To create inclusion between venues, artists, and audience, everyone is encouraged to participate in the Art Walk's monthly themes as a fun community activity in any creative form they wish to express it. January is silver, February is red, March is green, April is pink, May is aqua, June is white, July is purple, August is yellow, September is blue, October is orange, November is brown, and December is gold.
Please join our Facebook Page http://www.facebook.com/sequimartwalk