First Friday Art Walk Sequim
February 2, 5 – 8 p.m.
Various Venues in Sequim WA
Art with Heart! An evening filled with love, red apparel, and passionate pursues incorporates warm hearts, virtues of fine wine, and sweet treats. February's First Friday Art Walk Sequim embraces RED as the theme color that represents driven leadership, active endeavors, passionate affection, and increased excitement. It is also National Wear Red Day to increase awareness of heart health. You will find works of art and folks supporting the option to decorate and dress in all shades of red from blush to burgundy for the evening out on the town.
First Friday Art Walk Sequim is a fun and free self-guided tour of local art venues in Sequim on the First Friday of every month from 5 – 8 p.m. Visit online at www.SequimArtWalk.com as your resource to download and print your own map, find out what special events are happening, links, and how you can be part of art. Our mission is to create approachable and accessible art and cultural venues that encourage the community to connect and celebrate expression and diversity.
This encouraging and educational arts event is sponsored and produced by unique as you / Renne Emiko Brock.
Special Events on February 2: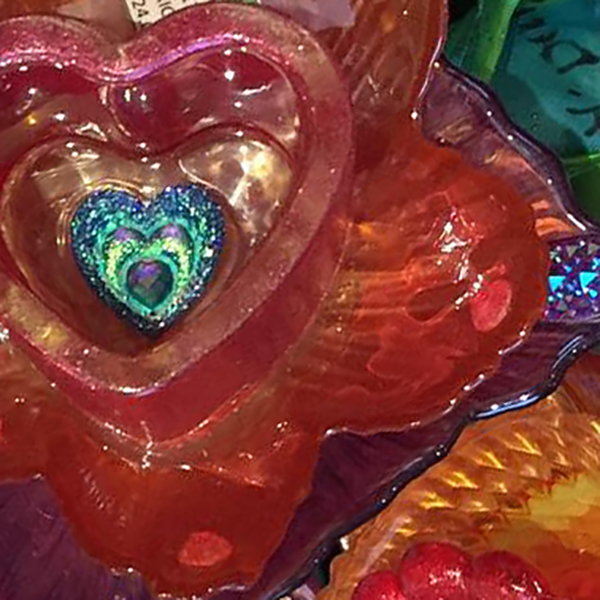 Learn more about the passion and process of artists at the Bag Ladies of Sequim at 161 W Washington St. with spinning yarn and wire, beaded jewelry demonstrations.
The Museum and Arts Center features "Nature's Miracles" an art exhibition by Beverly Majors at 175 W. Cedar St. Natures never ending variety of subject matter either in its' most subtle ways or wind and sand blasted by time, presents an array of possibilities. The beauty of the wind and water as it polishes driftwood is always captivating. Although these are not the only subjects painted they are among the favorites. Most of the pieces are painted in Acrylic and some in pastels; however a new found fondness of scratch art is starting to emerge.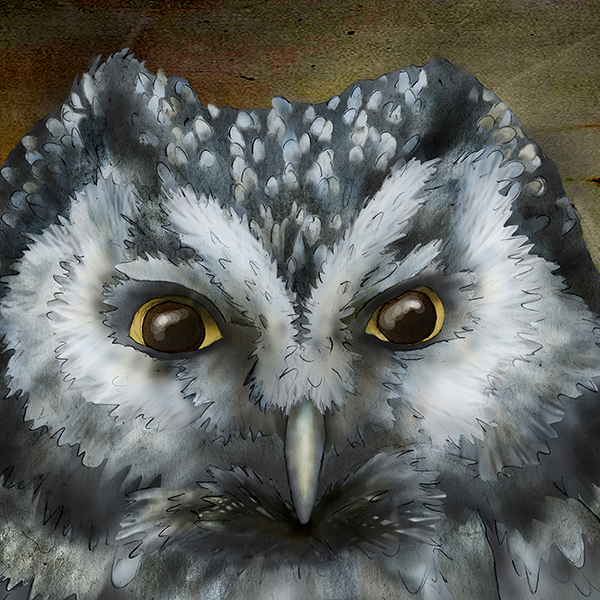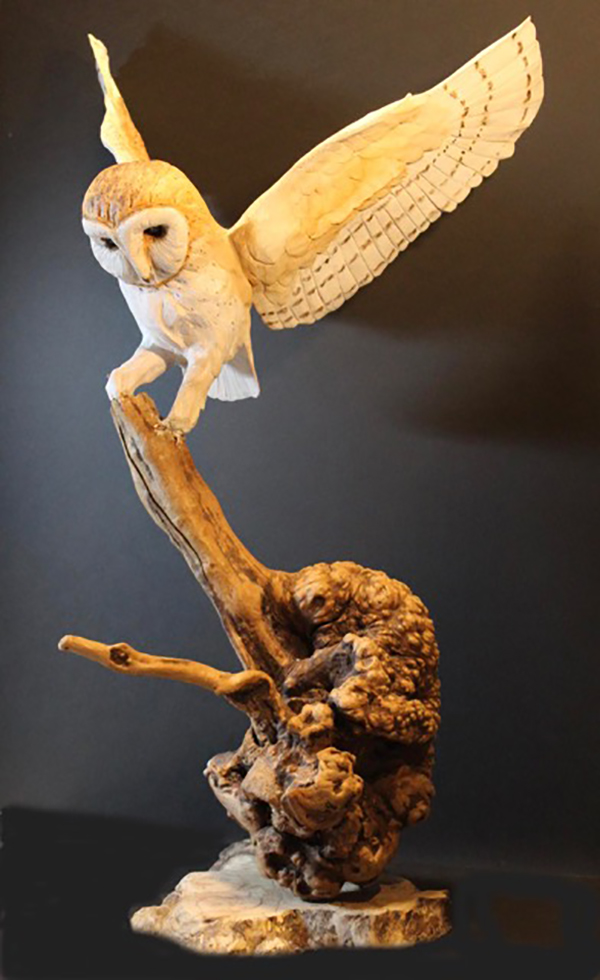 At 129 W Washington St, Blue Whole Gallery's exhibition "Grace, Beauty, and Attitude of Birds" features the artists of the month of February, digital painter Jeannine Chappell, and sculptor Joyce Volmut. They will showcase the beauty and spirit of birds in the art form. The gallery welcomes the community to this unique exhibit, elegant and powerful, guiding the viewers to the world of fine art with joy.
Alder Wood Bistro launches its re-opening after their annual January off by hosting the vibrant, bold and emotionally charged work of Thya Merz of T. Merz Studios from Port Townsend at 139 W Alder St. Gabriel and Jessica Schuenemann are fired up and ready to get back to what they love – bringing people pleasure through food as an ephemeral expression of fresh, locally sourced and community supported cuisine.
Wind Rose Cellars at 143 W Washington St. will feature the Tony Flaggs Band – playing Rock and Americana from 7:00 – 9:00 PM. Also enjoy photography from Nicole Meyer who is a local portrait and landscape photographer. And, their bistro will feature food specials and small plates tailored to their locally produced wines.
Rainshadow Café at 157 W Cedar St. has live music with Ches Ferguson along with locally roasted coffee, Northwest craft beer, wine, and cheese platter's and charcuterie plates from 6:00 to 8:00 PM. The music of Ches Ferguson has been described as folkadelic groove for your soul. He will take you on a musical adventure, weaving originals, covers and improvisational journeys on guitar, flute and mesmerizing vocals.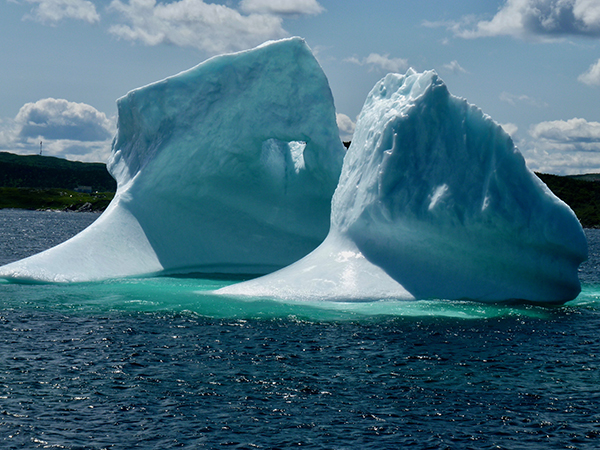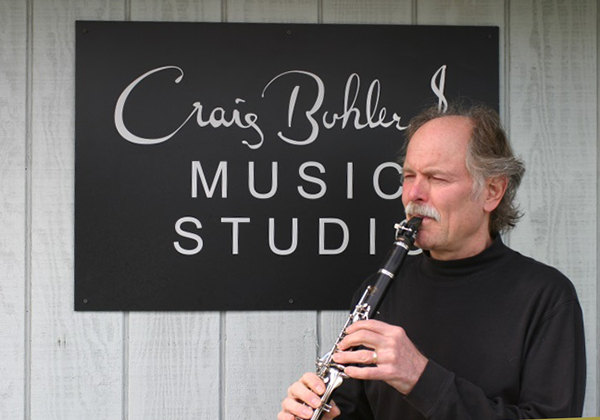 At the Sequim North Olympic Library, linger over the featured the work of photographer and adventurer Genny Langworthy with at 6:00 PM reception and enjoy experienced Jazz Saxophonist Craig Buhler will perform at 6:30 PM at 630 N Sequim Ave. Langworthy shoots mostly landscapes and seascapes, and many of the images are shot from water level in her trusty kayak. Her pieces capture the natural splendor of British Columbia, Western Washington, Quebec, Cape Breton and mainland Nova Scotia, as well as Newfoundland Labrador. All of Langworthy's pieces are custom-framed by her and, as such, the framing is part of the artistry. Genny Langworthy is an adventurer and photographer who often calls a kayak her office. Craig Buhler is Director & first tenor sax with Sequim's Stardust Big Band and the Carmel Big Band Workshop. Buhler is the author of two books on music: "New Ears Resolution" and "Keys to Music".
New to the Art Walk, discover tasty crafted outstanding brews and treats at the Peninsula Taproom located on North 2nd Avenue at 210 W. Washington St., Suite 4.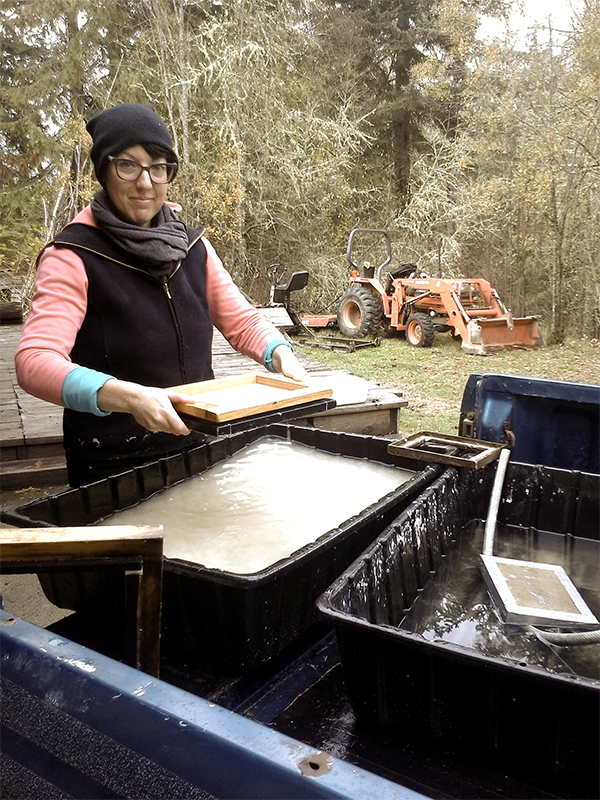 Lamb Farm Kitchen at 272 W Bell St. is featuring artist Ivy Ross Ricci. Ricci Handmade Paper is a tree-free handmade paper mill and studio nestled in the northern foothills of the Olympic Mountains. With rainwater caught from the cedar shake roof of their cabin, they quietly hand-form a variety of paper products including stationery, blank cards, book paper, artist paper, labels, containers and custom small batches of paper for weddings, celebrations, and artist collaborations.
Olympic Theatre Arts welcomes to the stage, singer/songwriter, Sophia Engkvist at 5:30 PM in the Gathering Hall at 414 N Sequim Ave. Sophia will share her music and 'Crystal Bowl Choir' for what will be a very unique sound experience featuring eleven crystal singing bowls, two alchemy bowls, Tibetan bells, chimes, and Sophia's beautiful voice. Some songs are lively and make you want to dance and chant, others are gentle and peaceful, perfect for meditation. "Feel free to bring mats, blankets and cushions for your comfort, if you would like to lay or sit on the floor," offered Engkvist about the performance. There is no charge for admission to the performance. Beverages and snacks will be available for purchase from OTA volunteers.
Nourish hosts artist Daniel Owens with a "Meet the Artist" reception from 4:00 – 6:00 PM, then followed by the music of Nightingale at 1345 S Sequim Ave.
To create inclusion between venues, artists, and audience, everyone is encouraged to participate in the Art Walk's monthly themes as a fun community activity in any creative form they wish to express it. January is silver, February is red, March is green, April is pink, May is aqua, June is white, July is purple, August is yellow, September is blue, October is orange, November is brown, and December is gold.
Want to participate as a venue or artist on the Official First Friday Art Walk Sequim Map, Listing, and Website, please contact Renne Emiko Brock at 360-460-3023 or renne@uniqueasyou.com If you are an artist of any media on the Art Walk, please get your information to Renne for publicity and opportunities.
Please join our Facebook Page: http://www.facebook.com/sequimartwalk
Thank you for your support!