On March 4, reveal an invigorating evening filled with green apparel and hints of promising starts, spring sprouting, motivated anticipation, and revitalized good fortune. March's First Friday Art Walk Sequim reveals GREEN as the theme color that represents fresh ideas, learning something new, youthful pursuits, nurturing natures, eternal good spirits, wellness, and generous assurance. You will discover newfangled art and imaginative folks supporting the option to decorate and dress in all shades of green while you stroll on the town with friends. Look for glowing luminaries as we are also celebrating the Sequim Sunshine Festival and encourage you light up with glowing bling to honor our sunny Sequim.
First Friday Art Walk Sequim is a fun and free self-guided tour of local art venues in Sequim on the First Friday of every month from 5:00 – 8:00 PM. Visit online at SequimArtWalk.com as your resource to download and print your own map, find out what special events are happening, links, and how you can be part of art.
Initiated in 2006, the First Friday Art Walk Sequim is an encouraging and educational arts event that is sponsored and produced by Renne Emiko Brock. Our mission is to create approachable and accessible art and cultural venues that encourage the community to connect and celebrate expression and diversity.
The First Friday Art Walk Sequim has returned while respecting the Covid health and wellness guidelines of masks, social distancing, and limited capacity. Please enjoy the Arts and Culture of Sequim safely. Not all venues are open fully with the slow start of the return of the evening activities of Sequim Art Walk, so please visit them when they are open.
Special Events for March 4: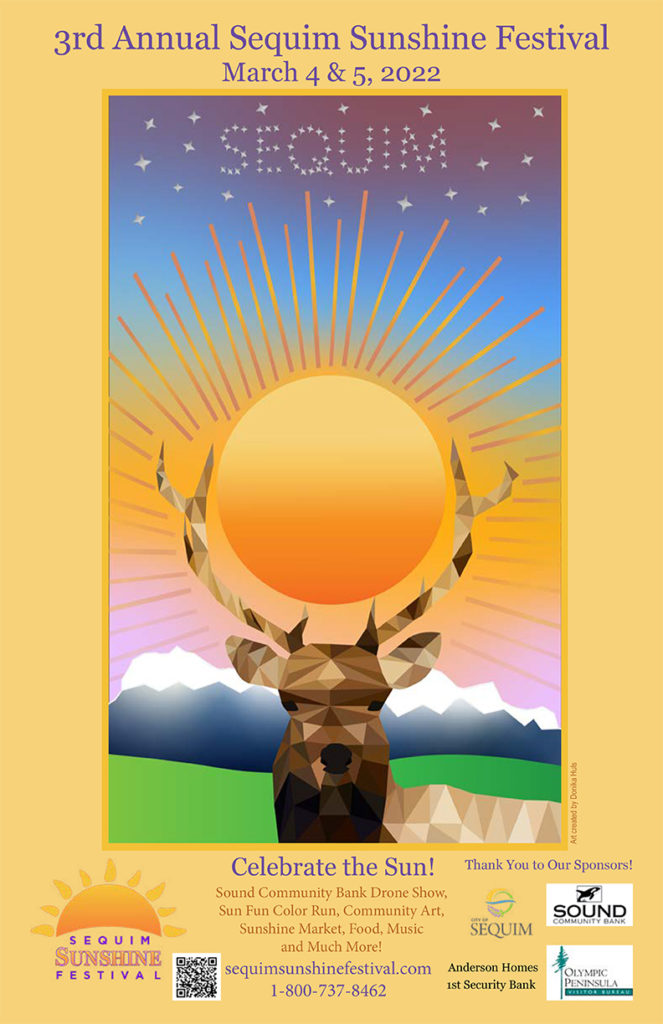 The Sequim Sunshine Festival encourages people to get out, have some fun, explore our beautiful town and discover something new. Details for this two day event at https://www.visitsunnysequim.com/263/Sequim-Sunshine-Festival
These are the Friday, March 4 Sunshine Festival Events:
5:00 p.m. – Ribbon Cutting on the Civic Center Plaza at 152 W Cedar St.
5:10 p.m. – Jamestown S'Klallam Tribe Heritage Presentation of "Why the Sun Always Shines in Sequim" at the Civic Center Plaza
5:00 – 8:00 p.m. – First Friday Art Walk Sequim at various venues in town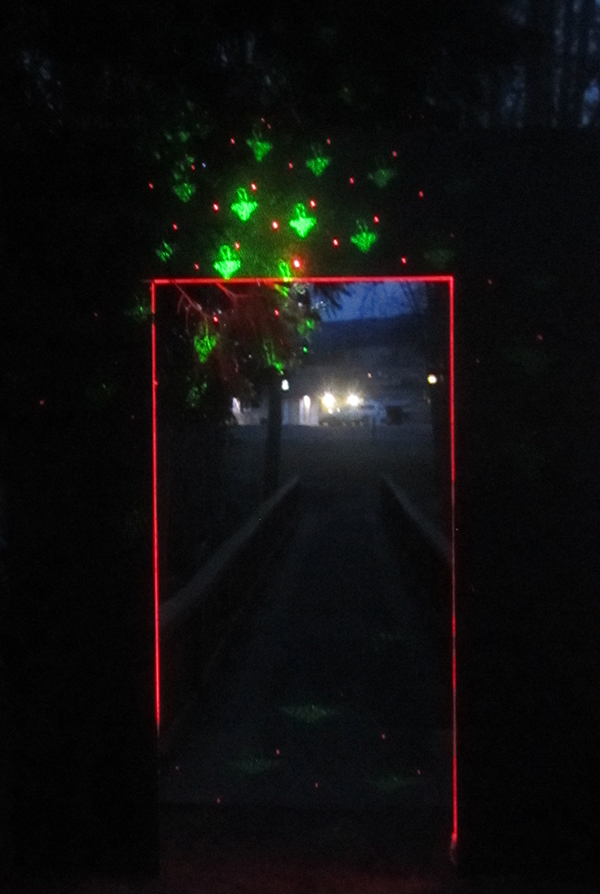 5:00 – 8:00 p.m. – Interactive Light Experience at the Garden Clubhouse at Pioneer Memorial Park at 387 E Washington St.
Join us for this custom built interactive environment that blends art and science encouraging visitors to look at light as an artistic design element and the physical properties of light. Art and science share a similar path of exploration, but with different intentions. Artist Ross Brown hopes this installation will instruct and also create wonder at the power of light to inform our lives. "Living here in the 'Blue Hole/Rain Shadow' have you ever wondered what is 'light'? Most of us accept that it is and get on with our lives. This exhibit is intended to invite the viewer to experience light as a form of artistic expression as well as talk about 'what is light'. As the viewer, you will be able to interact with and manipulate the light to see and feel the extraordinary power of these electromagnetic waves we call light." – Ross A. Brown, exhibit designer
6:00 – 8:00 p.m. – City Arts Advisory Commission Music Jam on Civic Center Plaza
6:00 p.m. to March 5 – Play the Great Sun Hunt 2022 Scavenger Hunt.
Join the Sunshine Festival Restaurant Romp supporting local eateries and you just might win a prize! Details at https://www.visitsunnysequim.com/268/Restaurant-Romp
Showcasing the Sequim Sunshine Festival Poster Artist: Donika Huls is a graphic designer with an ethereal aesthetic that embodies her work and her art will be featured on the 2022 Sequim Sunshine Festival poster and other marketing materials. She creates her pieces hoping that they leave the viewer with a warm feeling of joy and hope. This is Donika's first big project after graduating with a degree in Multimedia Communications from Peninsula College, and she is very excited to be creating art for the Sequim Sunshine Festival. In her free time, Donika enjoys playing video games and hanging out with her friends. Donika shares, "I wanted my art to convey what it means to live in Sequim, while also symbolizing the light and hope that the Sunshine Festival embodies. Having an elk be one of the main parts of the image with the sun between the antlers is what really makes this art specific to Sequim's sunshine, along with the mountain range and rolling hills in the background. The spelling of Sequim in the stars is actually a call out to the drone show from the 2020 festival, when drones spelled out the name of the town. Overall, I really wanted the art to have the joyous feeling of a sun rising on a new day, and the hope that that brings."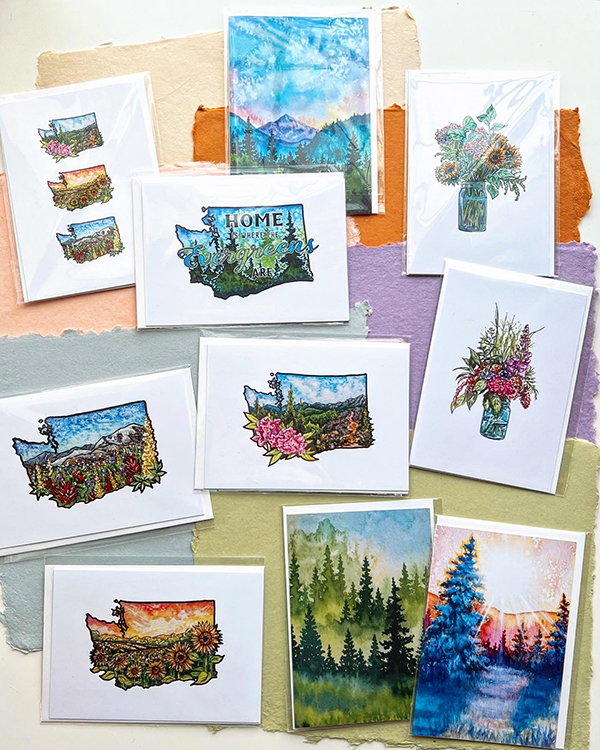 Forage Gifts & Northwest Treasures at 121 W Washington St. is showcasing joyfully, talented artist Sarah Necco. She shares, "I am a professional artist and photographer local to Olympic Peninsula, WA. I have been creating art my whole life and enjoy working in a variety of mediums, as well as photography and making jewelry. Most of my work is inspired by my love for flowers, nature, and landscapes. When not working on a creative project, I can be found in the garden, on a hike, or spending quality time with my family and pets!"
Pacific Mist – Books, Cards & Gifts at 122 West Washington Street hosts Tumble and Tide artist Pam Bauer and author Bertha Cooper during the art walk. In recognition of Women's History Month, Pacific Mist will host local author Bertha Cooper. Cooper holds a BSN in nursing from the University of Washington. Her 50- year career as a professional advocate for quality of life and health care of the elderly bring her rare insight and experience into the aging process. Her previous book, "Old and On Hold", addressing aging during a pandemic, has attracted many fans. Cooper's most recent book, "Women, We Are Only Old Once", offers "the wisdom below the years we've lived and the power that comes with making our own choices about our aging selves". Cooper will be available to chat about the books and her experiences in writing. Books will be available for sale and personalized autograph by Cooper. "Best New Voice in Health & Fitness" [Phoenix Award winner 2021] and Best Indie Book Award Winner 2021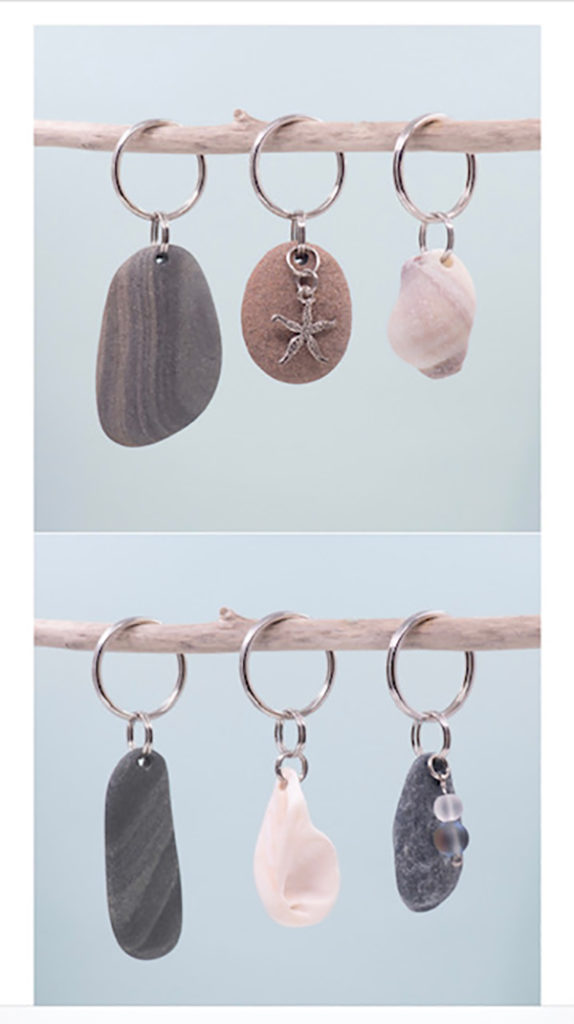 Bauer is a Port Townsend artist who works with the stones and shells she finds on the beach to make one-of-a-kind jewelry and accessories. In particular, she makes bookmarks from shells she has collected. Because each shell is unique, each bookmark is a one-of-a-kind accessory for the book lover as well as a tangible connection to beautiful ocean ecosystems. Tumble and Tide also offers other unique stone and shell gift items for any occasion.
Locally created gifts don Cedarbrook Lavender Gift Shop at 120 W Washington Street has delightful farm fresh lavender creations, treats, and inspired vintage décor items.
The City Arts Advisory Commission hosts the High Schools of the Olympic Peninsula Creative Crafts & Art Exhibit at the Sequim Civic Center at 152 W. Cedar Street.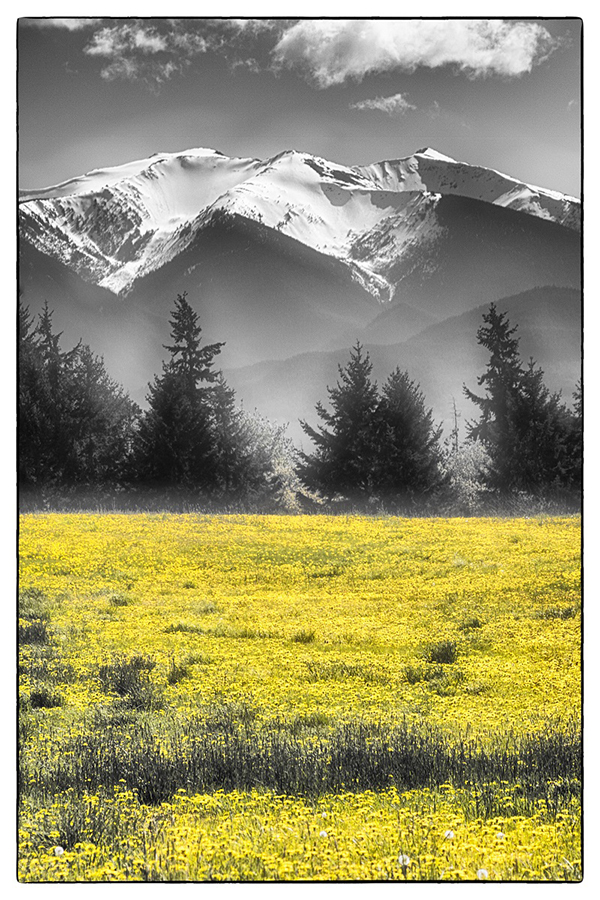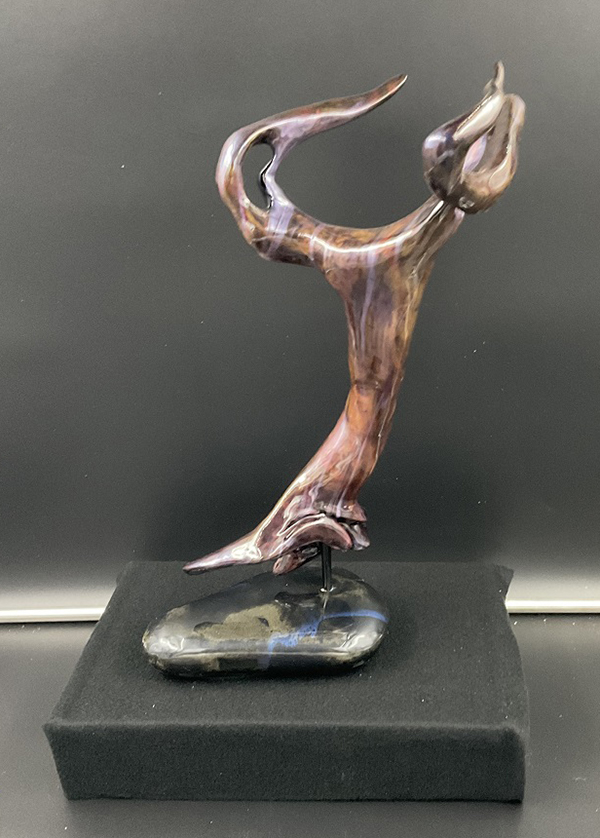 Blue Whole Gallery at 129 W Washington St. features the exhibition "Welcome Spring!" featured artists of March are John Bertholl, driftwood artist, and late Karen Rozbicki Stringer (1957-2021), fine art photographer. Members of the artist co-op gallery invite the community to the new exhibit in welcoming the arrival of Spring. From driftwood, nature's gift, John Bertholl creates expressive sculptures that converse directly with viewers. Because of his love for driftwood, he applies techniques that revive the essence of the wood. Karen Rozbicki Stringer's work is being featured in Memorium. A gallery member for eight years, she died last year after a prolonged illness. As a fine art photographer, Stringer sought to convey in her work "a sense of calm, tranquility, melancholy, rapture, or humor." With a keen and compassionate eye, she pursued images that captured "an appreciation of the essential in all its complexity and simplicity." A silent auction of some of her art will be held during the month of March, all proceeds of which will go to the Gallery's Student Scholarship Fund. Included in the scholarship fundraising event will be the sale of a deeply personal and powerful tribute book of photographs by and of Karen, and poetry by Karen's husband, Ken Stringer. Mary Franchini and Lynne Armstrong, veteran member artists will curate Karen's exhibit.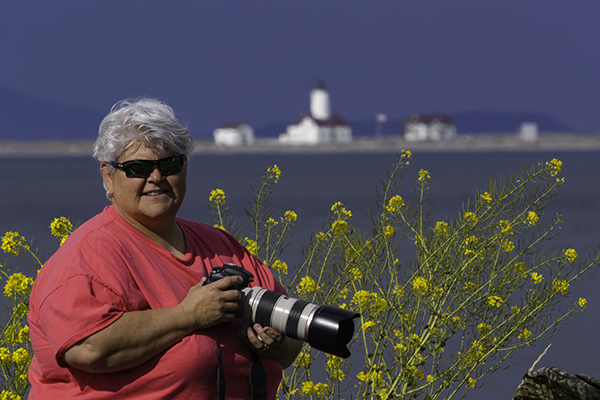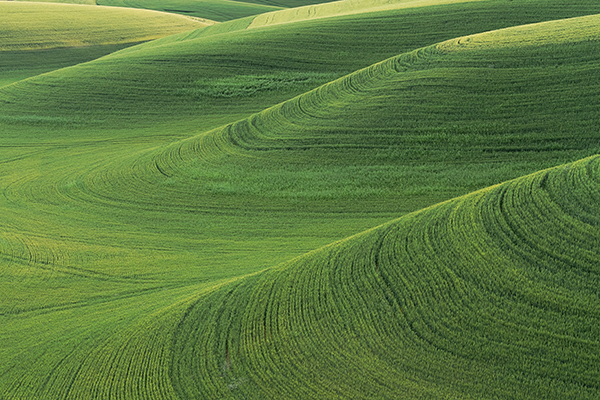 The Sequim Museum & Arts at 544 N Sequim Avenue featured artists Sherrie Cerutti and Ken Kennedy in the Judith McInnes Tozzer Gallery. Sherrie has been a photographer her whole life. She started out with 35mm and eventually moved to video. She started out freelancing for the local newspapers, the Sequim Gazette and the Peninsula Daily News, in the early 80's. She used her Pentax K1000, which she still owns. After graduating from Sequim High School, she went to journalism school in Seattle. Her career path took her in the direction of a news photojournalist, telling her stories with a video camera. She spent 20 years working for several news affiliations, NBC, CBS, and ABC, where she was nominated for 12 Emmy awards. She has since retired from broadcast news after 30 years and now lives in Port Angeles. She joined the Olympic Peaks Camera Club two years ago and has returned to her true passion, "still" photography with her Canon digital camera. The Olympic Peninsula has become her studio for landscape and wildlife photography. She loves to chase the light and capture the moment in time. Sherrie Cerutti states, "With still photography you have one image to tell a story. May you enjoy the story I have chosen to tell."
Ken Kennedy shares, "I am a local photographer living in Sequim since retiring here in 2017. The Olympic Peninsula is a fantastic area to live in, as it has so many incredible photographic opportunities. My interests in photography are varied as I enjoy many different types of photography. I like hiking in Olympic National Park and the National Forest taking Landscape and Nature images. My other interests are: night photography and imaging deep sky objects, macro photography, architectural photography, and occasionally wildlife if the opportunity presents itself. Photography has been an interest since I was in High School. Today's equipment and computer software allow you to take photos and make images that would not have been possible in the days of film. I really enjoy what you can do with images once you begin editing them in the computer.
Sequim Spice and Tea at 139 W Washington St. has heart filled unique art including glass, pottery, illustration, and photography of local artists. You can also find artful, creative tea blends, colorful and fun tea pots and cups, and cheerful culinary gifts.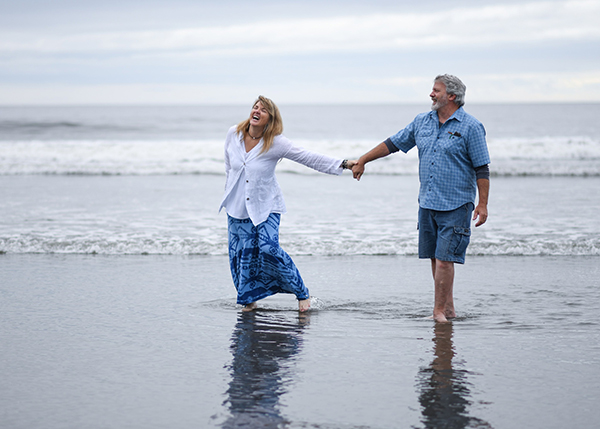 From 6:00 to 8:00 PM, Rainshadow Café at 157 West Cedar Street has live music with Dawn & Steve. Come sing your favorite songs with a full menu and drinks to enjoy. Some dancing is encouraged too. Rainshadow Café is also hosting Mike Biskup's art for March. mikebiskup.com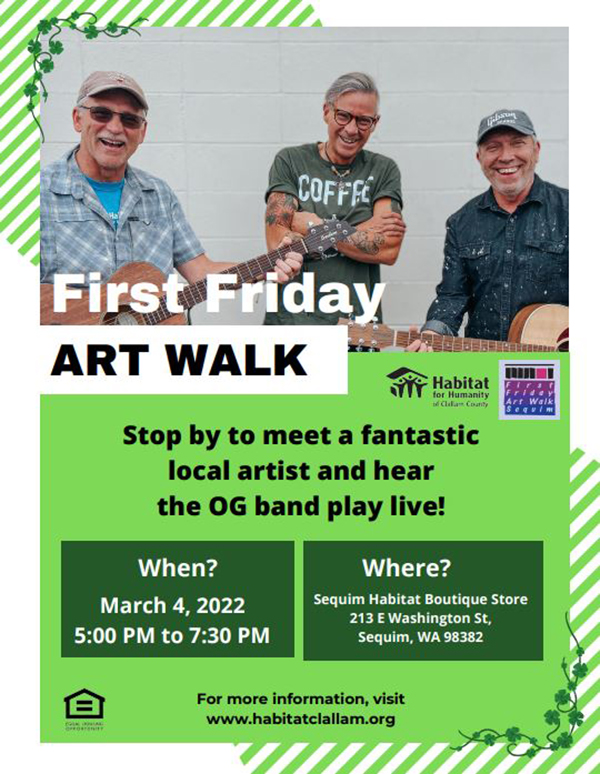 From 5:00 to 7:30 PM, Habitat for Humanity of Clallam County's Sequim Habitat Boutique Store at 213 E Washington St. has a local artist and Live Music by The OG.
Want to participate as a venue or artist on the Official First Friday Art Walk Sequim Map, Listing, and Website, please contact Renne Emiko Brock at 360-460-3023 or renneemiko@gmail.com If you are an artist of any media, please get your information to Renne for publicity and opportunities. Thank you for your support!
To create inclusion between venues, artists, and audience, everyone is encouraged to participate in the Art Walk's monthly themes as a fun community activity in any creative form they wish to express it. January is silver, February is red, March is green, April is pink, May is aqua, June is white, July is purple, August is yellow, September is blue, October is orange, November is brown, and December is gold.
Please join our Facebook Page http://www.facebook.com/sequimartwalk