First Friday Art Walk Sequim
April 1, 2022 5:00 to 8:00 PM
Various Locations Around Sequim
SequimArtWalk.com
April 1 Art Walk Color Theme is PINK! Spring flaunts hope and high spirits with the return of bright flowers and fluttering feathered friends as April's First Friday Art Walk Sequim bursts with PINK as the theme color that represents congenial care, productive promises, encouragement, sweet delight, supportive strength, and kind, comforting assurance. You will find works of art and folks supporting the option to dress in all spring shades of pink from strong burgundy to soft blush for the evening out on the town.
First Friday Art Walk Sequim is a fun and free self-guided tour of local art venues in Sequim on the First Friday of every month from 5:00 – 8:00 PM. Visit online at SequimArtWalk.com as your resource to download and print your own map, find out what special events are happening, links, and how you can be part of art.
Initiated in 2006, the First Friday Art Walk Sequim is an encouraging and educational arts event that is sponsored and produced by Renne Emiko Brock. Our mission is to create approachable and accessible art and cultural venues that encourage the community to connect and celebrate expression and diversity.
Special events for April 1: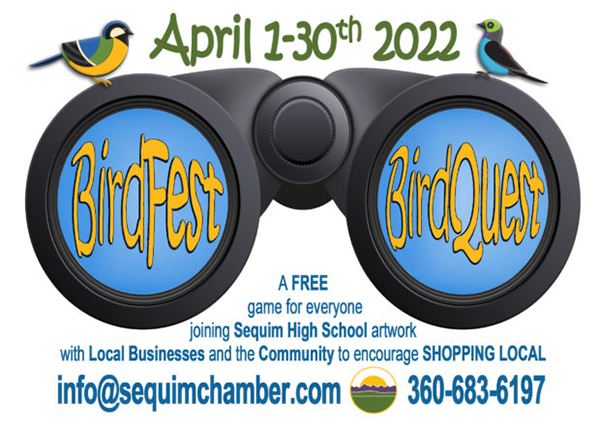 It's time for BirdFest BirdQuest! You can play BirdFest-BirdQuest which runs April 1 to 30 and is sponsored by Sequim-Dungeness Chamber of Commerce. During the First Friday Art Walk, you can find these fine art feathered friends at several locations. BirdFest-BirdQuest: a fun free game for everyone that brings together high school students, merchants, and the community to support the Olympic Bird Festival and encourages shopping locally. www.OlympicBirdFest.org Find and match the bird art pieces created by Sequim High School students to the business where they are hidden. You can vote for your favorite student art piece too! Game cards available at and can be returned to each of the participating merchants and the Sequim Chamber of Commerce Visitors Center at 1192 E Washington St. by 4:00 PM April 30, 2022. Winners need not to be present for the Prize Drawings or People's Choice Awards. Questions? 360-683-6197 or info@SequimChamber.com
Wind Rose Cellars at 143 W Washington St. hosts vocal jazz artist Wendy Cassandra performing jazz standards from 6:00 to 8:00 PM. Partner live music, art, and award winning artfully crafted wines and appetizing tidbits at Wind Rose.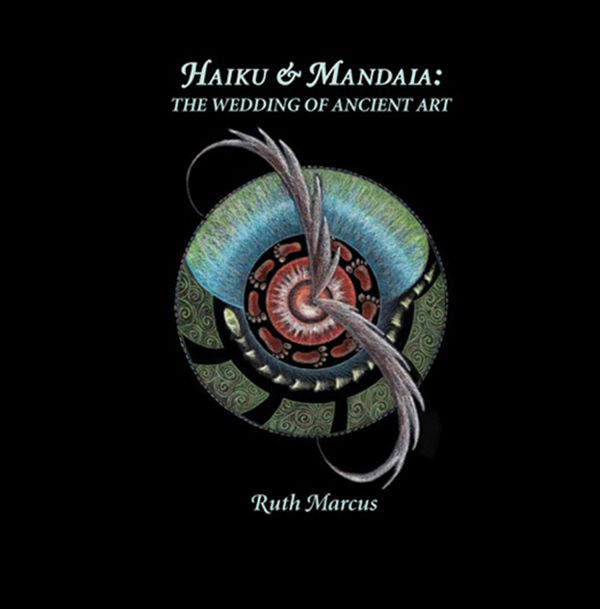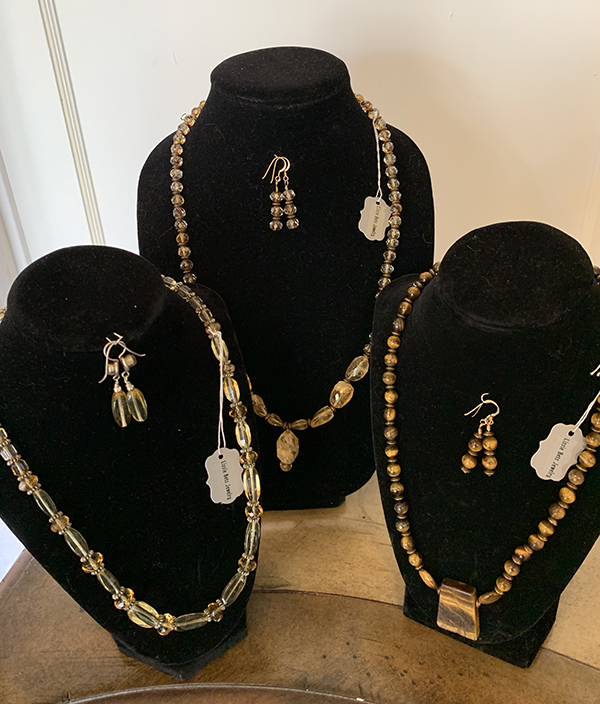 Pacific Mist – Books, Cards & Gifts at 122 West Washington Street hosts author Ruth Marcus and artist Carol Pearson. Local poet and former Gazette columnist, Ruth Marcus, weaves art and poetry in this collection of hand-drawn mandalas and modern haiku — a lush journey into ancient-art-cum modern. Readers will find themselves in the forest, wheat fields and coastal waters. From ice fishing to meditation, Ruth weaves the spiritual and political with nature and everyday life. A beautiful gift book that weds two ancient arts. Educational and inspiring. Autographed for First Friday shoppers. Carol Pearson is the owner/artist of Lizzie Betz Jewelry (Lizzie Bets was her grandmother's nickname). After 35 years of teaching Special and Regular Education classes, her artistic and creative talents took her into a new endeavor. Carol uses a broad collection of semi-precious gems and crystals in her jewelry making. All pieces are one of a kind, making them unique and full of personal detail. She offers customer designs at her Sequim Studio, along with her own beautiful creations in necklaces, earrings, bracelets, barrettes, decorative pins and key chains. Carol is self-taught and draws her inspiration from the nature of the spectacular Pacific Northwest. Carol's work will be on display and available for purchase at Pacific Mist during the April First Friday Art Walk and Carol will be happy to tell you the art and history behind each of her creations.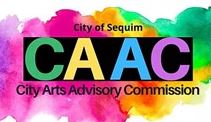 The City Arts Advisory Commission hosts the High Schools of the Olympic Peninsula Creative Crafts & Art Exhibit at the Sequim Civic Center at 152 W. Cedar Street. Please join the City Arts Advisory Commission (CAAC) for an Open House and Awards Ceremony for the winners of the High Schools of the Olympic Peninsula Creative Crafts and Arts Exhibit on Friday, April 1 from 4:00 to 6:00 p.m. with award presentations at 5:00 p.m. The event will take place in the Karen Kuznek-Reese Gallery at the Sequim Civic Center.
Sequim Spice and Tea at 139 W Washington St. has heart filled unique art including glass, pottery, illustration, and photography of local artists. You can also find artful, creative tea blends, colorful and fun tea pots and cups, and cheerful culinary gifts.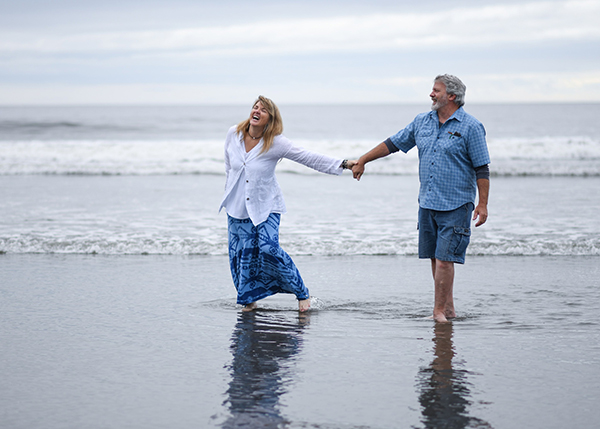 From 6:00 to 8:00 PM, Rainshadow Café at 157 West Cedar Street has live music with Dawn & Steve. Come sing your favorite songs with a full menu and drinks to enjoy. Some dancing is encouraged too.
From 5:00 to 7:30 PM, Habitat for Humanity of Clallam County's Sequim Habitat Boutique Store at 213 E Washington St. has a local artist and Live Music by The OG.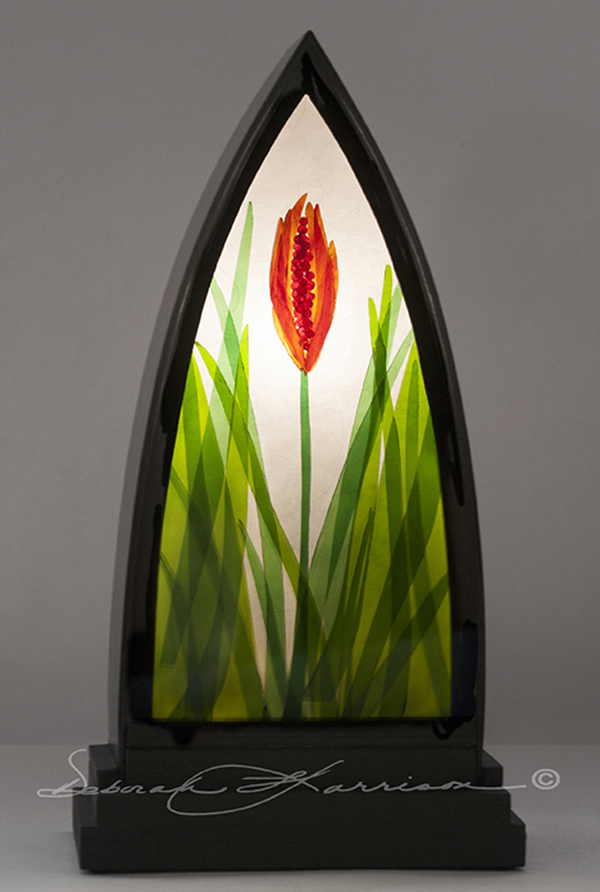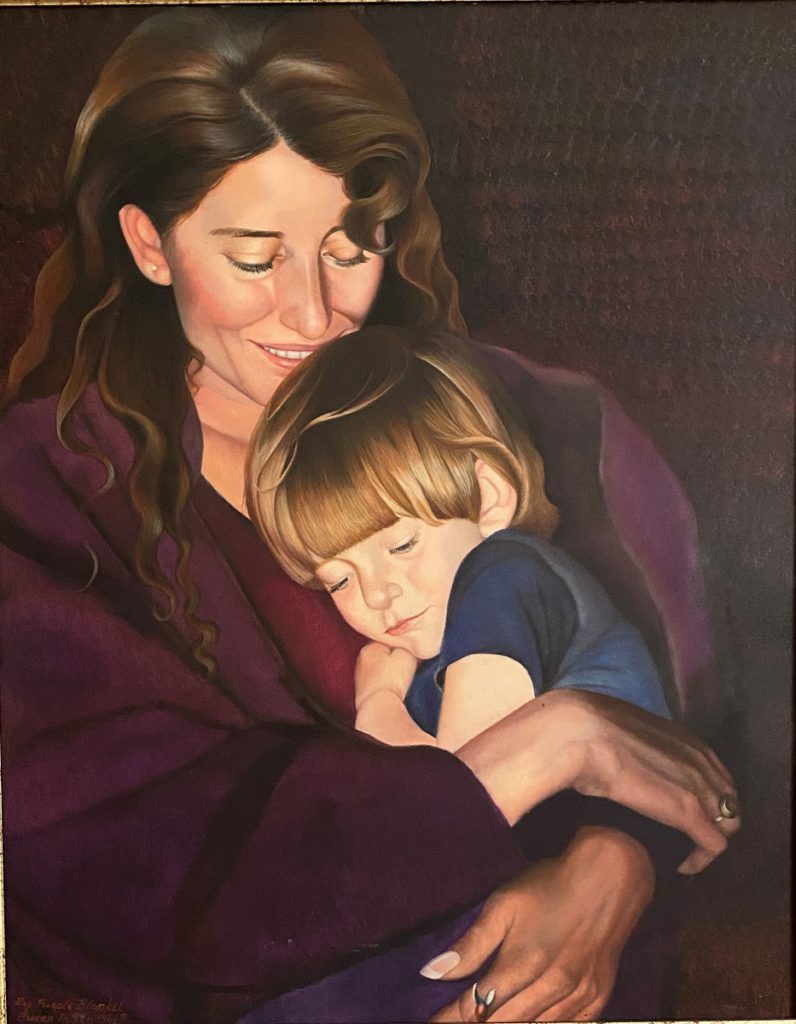 Blue Whole Gallery at 129 W Washington St. features the exhibition "Celebrating the Natural World" with artists Deborah Harrison, mixed media sculptor, and Susan Trisko, 2D artist in painting. Sequim with blue skies, their art will help viewers to reconnect with the beauty of nature.
Deborah Harrison shares her process through a series of questions, "What inspires your creativity? 'Sacred Elements', my series of watersculptures, was inspired by a dream. One morning, just as I was awakening from sleep, the image of an illuminated marble fountain flashed boldly in my consciousness. It stayed with me all day, and I could not shake the feeling that it wanted to come into physical form. Not being formally trained in the arts, it took five years of experimenting before I succeeded in crafting the dream vision. I call it the Nautilus Mandala. In time, more complex designs emerged, all with flowing water as their central element. I find the gentle sound of the water soothes the nervous system, while the dance of water and light delights the eye. Each fountain in the series features classic geometric shapes that promote harmony and a sense of well-being. Recently I have been enjoying a novel artform: layered glass sculptures. "Layering" the stained glass—a unique approach that I developed—adds complexity and depth to my pieces. When the sunlight streams through multiple layers of colored glass, their vivid hues intensify: the sculpture comes to life, sparkling and glimmering with luminosity. The precise abstract geometrics of my first pieces have given way to more organic lyrical forms such as fields of wind-swept grasses filled with budding wildflowers, seedpods bursting with jeweled 'bead seeds', blossoming lotuses, delicate butterflies, and—most recently—translucent cobalt blue waves of the Salish Sea.
What's the most challenging part of your artistic process? Photographing my glass sculptures is very challenging. It's almost impossible to capture their luminosity in a photo. I find that one really needs to experience them in person. Oh, and the cutting of the glass–as one might imagine—is really rough on the fingers! An abundant supply of band-aids is essential.
What is next for you? Is there anything you are working on right now that is exciting for you? With spring now upon us, and new life blossoming all around, I feel a surge of fresh enthusiasm. The stunning natural beauty of our little corner of the continent enchants me, and I am feeling inspired to create some layered glass sculptures in honor of the wild gorgeousness here. Now that temps are warming up, I am making my annual camping reservations. I always get excited about that. Spending time in the wilderness, breathing in the exquisite beauty of the Olympic Peninsula, is so healing to the psyche. Mother Nature is my muse!"
Susan Trisko ponders about her art practice, "I wonder: Why do we paint or draw or do any artistic endeavor? What is it that drives us to take a subject of any kind and make a representation of it to hang on the wall or on ourselves or put on a pedestal in the middle of a room? I think it is to draw attention to it, to share with others. Most of us do our work in solitude and when completed, we find ways to share with others. It is to say "Isn't this beautiful or interesting or magnificent in some way?"
As a child, drawing the chipmunks or deer or birds I found around my house was a way to make them mine, to hold them still. My parents weren't the kind of people who praised or encouraged. It wasn't until I was in my late 20s and married to my husband that I took my first Art lessons with Sacramento artist Carole McNair. I do not remember how I met her nor how we became best friends. She was an Art teacher and we became almost inseparable. We did mall shows together throughout Northern California and that was when I sold my first paintings.
A few years later I found myself wanting to learn more. I wanted to do portraits and I began searching for my next teacher. A friend told me about Abraham Nussbaum. Abe was Austrian and a Holocaust survivor. He was also a famous artist. I interviewed for a spot. He taught one-on-one only and had but one opening. I studied with Abe for several years, painting in his studio and listening to his stories. He was the kindest, wisest man I ever met, and a published poet.
I painted absolutely every night for about 20 years. It was obsessive. In my late 30s, I felt there was more to learn and I found someone who had a lot to teach. His name was Gary Pruner in Carmichael, California. I learned a lot from him, like fading edges and blending, blending. I was in three galleries at this time, The Treasure Trove in Roseville, Ca. Delphina's on J Street in Sacramento, and an Artists' Coop in Sacramento. I was selling a lot of paintings.
Then it became necessary for me to go to work full-time on the second shift and I could not paint much during this next chapter of my life. I was caught up in earning a living and not very happy.
In 2003 we moved to Port Townsend, escaping Sacramento. After many health problems, I am painting again. I am enjoying the bright colors. I love painting fur. I love painting feathers. I love exploring each subject as I paint it, discovering something new with each one. I paint beautiful things because, while there are ugly things in our world worth depicting, I choose to concentrate on the innocent and beautiful. I hope other people will enjoy looking at my paintings as much as I enjoyed painting them."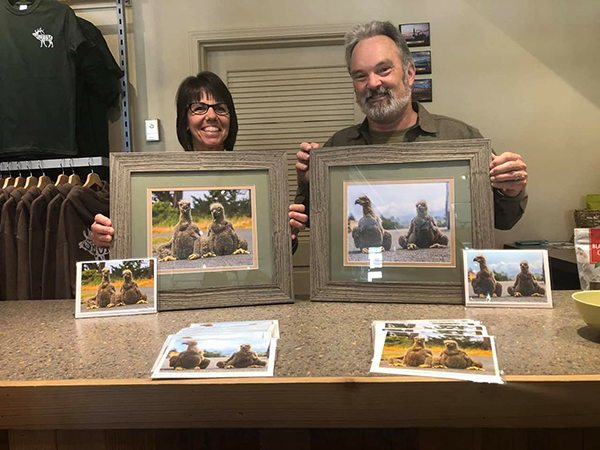 Forage Gifts & Northwest Treasures at 121 W Washington St. is showcasing artist Keith Ross with some images of Birds of the Pacific Northwest, in honor of April being Bird Month. Keith Ross, of Keith's Frame of Mind based in Sequim WA, is widely known and respected for his wildlife photography, and for his event and portrait photography, as the official photographer for the Sequim Irrigation Festival season, and also captures live events like theater ballet, and concerts using his mastery behind the camera. He also teaches photography & editing, and has a full-service printing and framing business, providing complete unmatched quality, from the press of the shutter, to delivery of the finished products. Teamed with his wife KryzTyna, highly skilled in graphic design and photography, they offer a complete professional package for anything you need.
At Sequim Museum & Arts, 544 N. Sequim Ave., artists Orval Howe, Sr., and Sammy Catii, Howe's granddaughter, are featured. "My grandfather … helped feed his family in part by selling his paintings along Old Olympic Highway during the Depression," Catii said. "He painted on whatever he could find, sometimes that meant paper plates or cardboard and sold for whatever a buyer was willing to pay. It was his dream that someday his paintings would hang in a museum." Howe died in 1956, and now his grandchildren have collected many of his paintings to display, alongside Catii's photography. "There is some fun history here and his love for nature is inspiring," Catii said. For every dollar donated to the museum, the donator's name will be put in a hat for a drawing at the end of the month for one of Catii's prints. Catii is a professional photographer with a love for the outdoors. A native to Washington state, she has volunteered with Audubon and studied ornithology at Cornell University. Their artwork will be on display at Sequim Museum & Arts throughout April; hours are from 11 a.m. to 4 p.m., Wednesday through Saturday.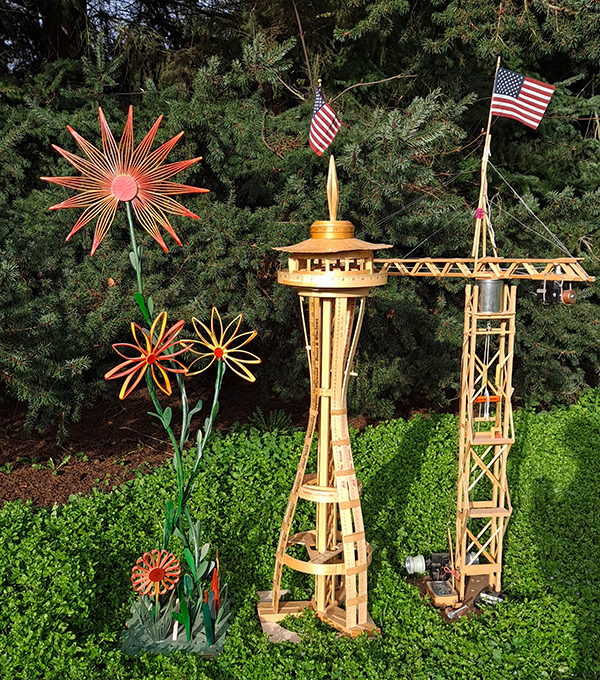 Brad Griffith will open the historic home, Sequim's first creamery in 1914, at 311 W Turnhere Road to share his current work. It is across the street from the Sequim Middle School as well. Enjoy his craft wood bending and "Make Tools in Schools" home studio tour. Twelve years of reinventing how to design, make, and teach NO STEAM wood bending. Come see hundreds of arts, crafts, tools, toys and furniture. Three years of making and teaching how to make small hand tools from everyday objects. Both are his way to support students learning how to work with wood and the skilled trades. www.craftstickcrafts.com
Want to participate as a venue or artist on the Official First Friday Art Walk Sequim Map, Listing, and Website, please contact Renne Emiko Brock at 360-460-3023 or renneemiko@gmail.com If you are an artist of any media, please get your information to Renne for publicity and opportunities. Thank you for your support!
To create inclusion between venues, artists, and audience, everyone is encouraged to participate in the Art Walk's monthly themes as a fun community activity in any creative form they wish to express it. January is silver, February is red, March is green, April is pink, May is aqua, June is white, July is purple, August is yellow, September is blue, October is orange, November is brown, and December is gold.
Please join our Facebook Page http://www.facebook.com/sequimartwalk