First Friday Art Walk Sequim
April 7, 2023 5:00 to 8:00 PM
Various Locations Around Sequim
SequimArtWalk.com
April 7 Art Walk Color Theme is PINK! Spring flaunts hope and high spirits with the return of bright flowers and fluttering feathered friends as April's First Friday Art Walk Sequim bursts with PINK as the theme color that represents congenial care, productive promises, encouragement, sweet delight, supportive strength, and kind, comforting assurance. You will find works of art and folks supporting the option to dress in all spring shades of pink from strong burgundy to soft blush for the evening out on the town.
First Friday Art Walk Sequim is a fun and free self-guided tour of local art venues in Sequim on the First Friday of every month from 5:00 – 8:00 PM. Visit online at SequimArtWalk.com as your resource to download and print your own map, find out what special events are happening, links, and how you can be part of art.
Initiated in 2006, the First Friday Art Walk Sequim is an encouraging and educational arts event that is sponsored and produced by Renne Emiko Brock. Our mission is to create approachable and accessible art and cultural venues that encourage the community to connect and celebrate expression and diversity.
Special events for April 7: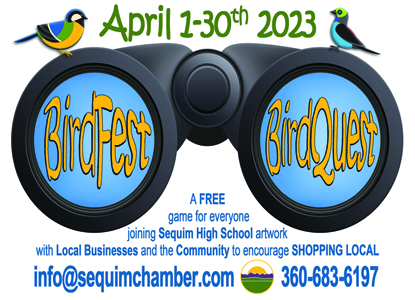 It's time for the BirdFest BirdQuest Game! You can play BirdFest-BirdQuest which runs April 1 to 30 and is sponsored by Sequim-Dungeness Chamber of Commerce. During the First Friday Art Walk and throughout April, you can find these fine art feathered friends at several locations. BirdFest-BirdQuest: a fun free game for everyone that brings together high school students, merchants, and the community to support the Olympic Bird Festival and encourages shopping locally. www.OlympicBirdFest.org Find and match 15 or more of the 20 bird bird-sculptures created by Carmen Maxwell's Sequim High School students to the business where they are hidden. You can vote for your favorite student bird sculpture too! Game cards available at and can be returned to each of the participating merchants and the Sequim Chamber of Commerce Visitors Center at 1192 E Washington St. by Noon on April 30, 2023. Winners need not to be present for the Grand Prize Drawings or People's Choice Awards. Questions? 360-683-6197 or info@SequimChamber.com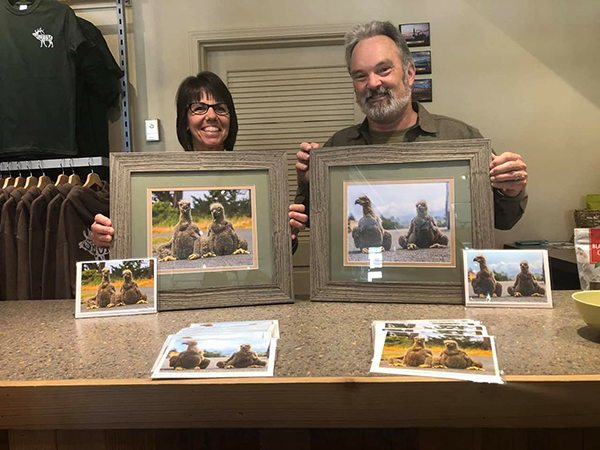 Forage Gifts & Northwest Treasures at 121 W Washington Street features Keith and Kryztyna Ross of Keith's Frame of Mind. He will be showing his new venture which is a children's book and plush toy set called "The Rescue of Eddie & Elliot, A Bald Eaglet Adventure".  It tells the story of the eaglet rescue here in Sequim and their adventure back to the nest. Guests will be able to place preorders at the event. This is great topic for April during our birding month with the coming of the Bird Festival and Birdfest Birdquest Game.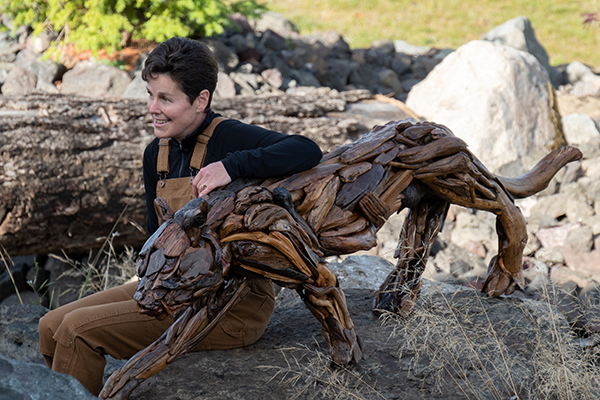 Molly Omann's "Driftwood Creations" will be exhibited in the Judith McInnes Tozzer Art Gallery at the Sequim Museum & Arts at 544 N Sequim Ave. Molly Omann, a local driftwood sculptor, will be featured at the Sequim Art Museum this month. Her stunning pieces are created from local driftwood. Included in the display are a life size cougar, named for the famous Disney movie, Charlie the Lonesome Cougar, which was filmed here on the Olympic Peninsula. Ron Brown, the star of the film, resided here in Sequim and was a dear friend of the artist. Historical pictures from the filming will be part of the display.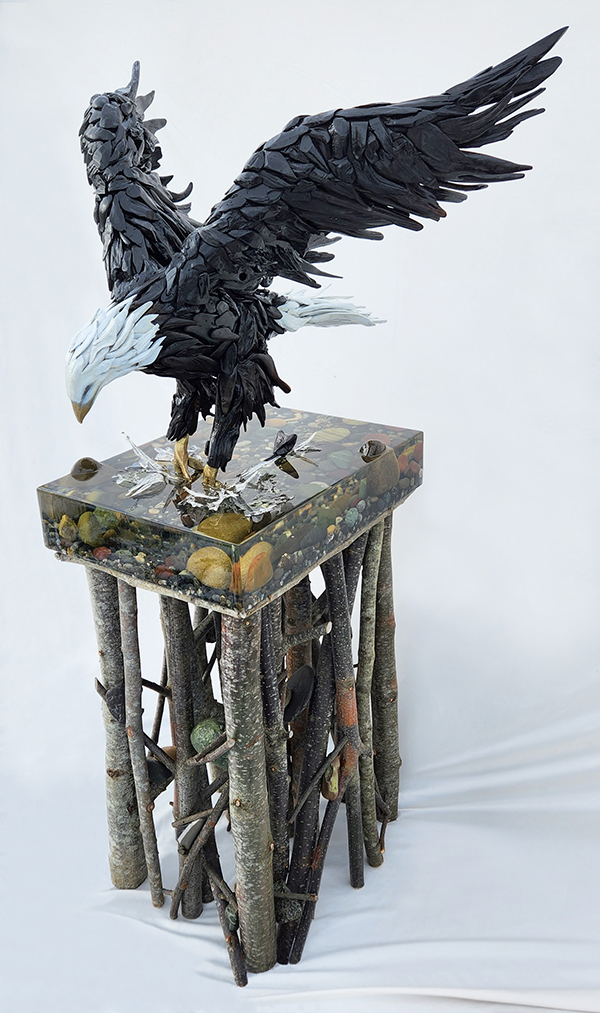 A second life like sculpture, the Fisher King, depicts an eagle snatching his catch from the Dungeness River. This piece, which was recently featured in the Sequim Gazette, was created using epoxy resin for a river base with actual Dungeness River rocks embedded in the complex pour. The life size eagle is splashing into the river with his talons wrapped around a fish. A photo display of Omann's multiple driftwood sculptures will also be on exhibit.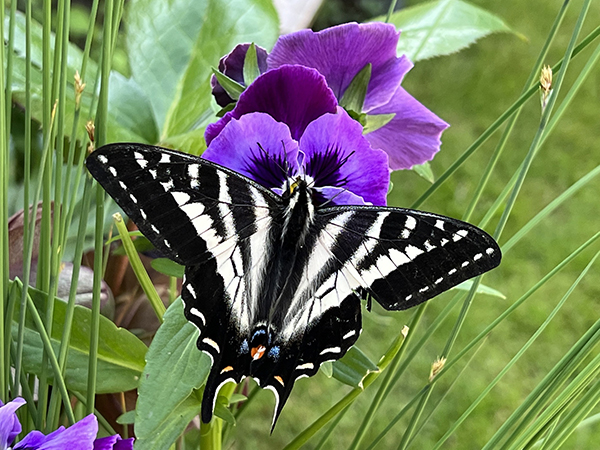 Blue Whole Gallery at 129 W Washington St. features the "Eye of the Beholder" Exhibit featuring artists Photographer Hank Izley and Kiln-formed glass artist Sheri Cox Wetstine. Hank Izley shares about his work, "I am a native of Washington State, spending all of my 74 years on this earth enjoying and photographing its beauty. I do not claim to have a well-trained eye, for the photos I capture. I truly believe it is a gift. It is my honor and privilege to share them. Art is in my genes, my poetry, my music, and my photography reflect this fact. Even my day job is artistic, as I sculpt metal into airplane parts. Lately, I have invented a brand-new way of presenting my photos. I have them printed on Metal, then I create End Frames. These are made from Exotic Wood and they include artistic sculpting that I do with my CNC router. This has never been done before to my knowledge. Now, instead of hanging these photos on the wall, they can be placed on the fireplace mantle or a tabletop."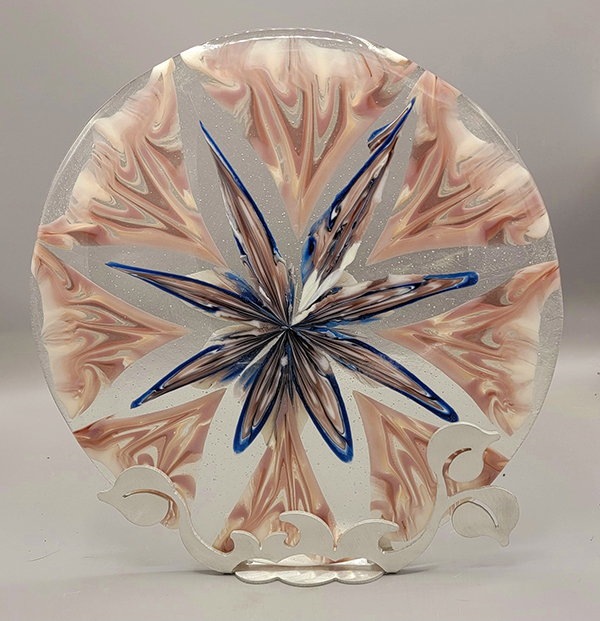 Sheri Cox Whetstine states, "Since 2006 I have been exploring the possibilities art glass offers, which seem limited only by my imagination. I love how a solid, flat piece of glass can be, merely by adding heat, transformed into a thing of beauty, either by intent or chance. I love the predictable unpredictability of warm glass. I can have an idea in mind and create specifically for the desired effect, but there are sometimes things that happen in the kiln which simply cannot be controlled. I can cut pieces of glass and arrange them with a specific design in mind, or I can put lots of random pieces together and let fate decide the outcome. There may be clean, precise lines and edges, or the glass can swirl and wave into whatever pattern it will, in organized chaos. I love to tackle new ideas and try new techniques and learn something daily. I continue to take classes and draw upon the expertise of others willing to share their knowledge. Each piece of glass is carefully thought out, designed, hand cut, assembled, fused, then slumped or draped (melted into or over a mold). Most pieces, whether large or small, have upwards of 80 hours invested in their creation. Each individual fusing process takes approximately 24 hours and reaches a peak temperature of 1700̊ F, depending on the process and a piece can be fused several times. The slumping or draping process also takes an average of 14 to 20 hours, sometimes much longer, and some pieces can take more than a week in the kiln. Oftentimes there are multiple tests of different colors of glass in the kiln to see how they look after firing before the final decision is made. And there are more failures than successes in the kiln. Each piece of glass is completely original as it is nearly impossible to recreate the same piece twice, no matter how hard I try!"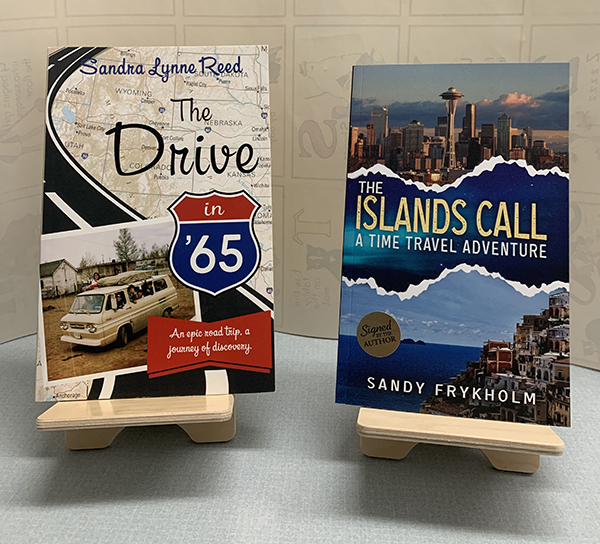 Pacific Mist – Books, Cards & Gifts at 122 West Washington Street hosts two local authors, Sandy Frykholm and Heidi Hansen during the art walk. Author Sandy Frykholm, whose titles include "The Drive in '65", a riveting memoir of her family's trek across the North American continent from Alaska to the East Coast, as well as her newest release, "The Islands Call", an exciting time-travel romp with just a smidgen of romance.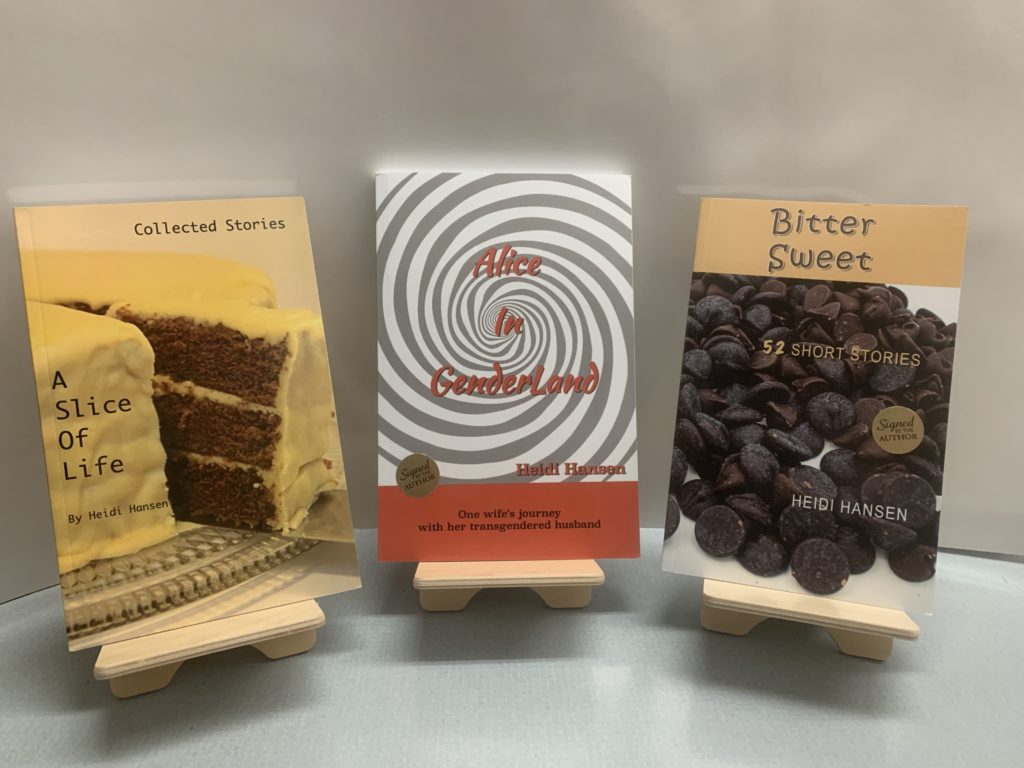 Author Heidi Hansen and her new memoir, "Alice in Genderland", an insightful story of one woman's voyage of discovery with her transgendered husband. Heidi has also published two volumes of short stories, "Bitter Sweet" and "A Slice of Life". Stop by and meet these icons of Sequim's writing community and get your books signed.
At the City of Sequim Civic Center at 152 W. Cedar Street, the City Arts Advisory Commission hosts at 5:00 to 7:00 PM the First Friday Open Music Jam. Bring your acoustic instrument and/or your voice and join us for an informal gathering of people who like to make music.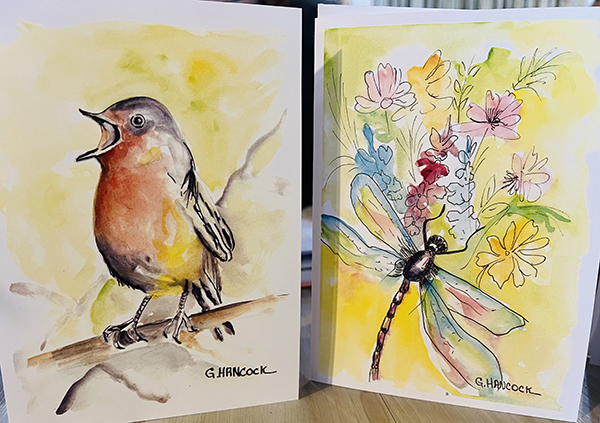 Cedarbrook Lavender Gift Shop at 120 W Washington Street hosts artist Gloria Hancock. She shares about her work, "I wear several hats, as most women do. I have so far navigated my life as a wife, widow, Mom, step-mom, adoptive mom, mother-in-law, grandma, aka Ama, and lastly, a great grandma to 5! In all of these stages-Art has been a constant companion. God has allowed me time to study and practice various mediums. I float from oil painting to watercolor or pastel, depending on my mood. Painting portraits is by far the most challenging and also the most rewarding. I give God thanks for my artist life! He gives everything I need to live my dream."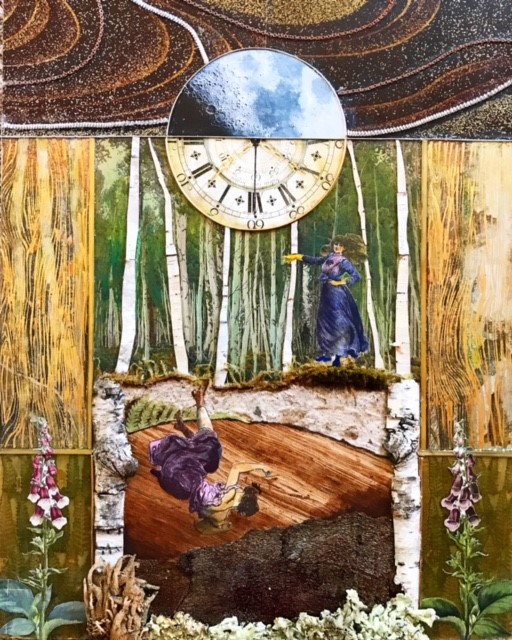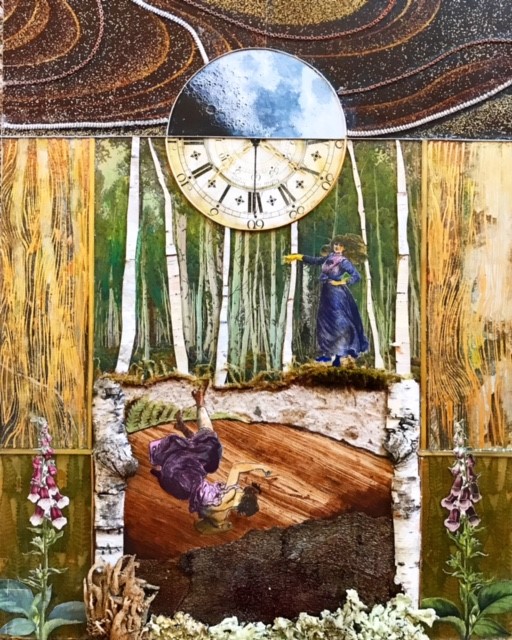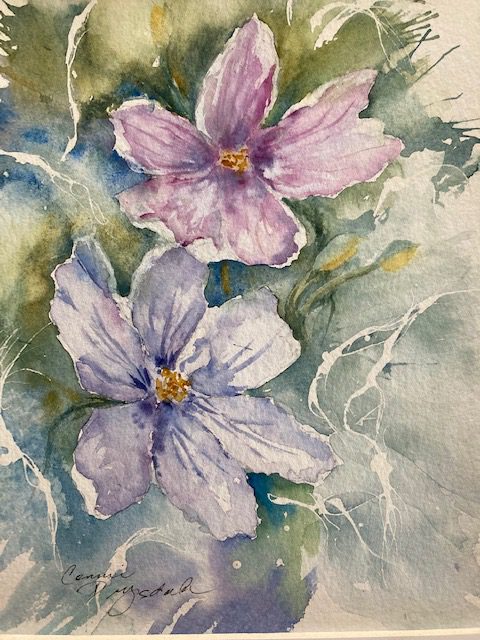 Peninsula ART Friends (PAF) has their artwork on display at Wind Rose Cellars at 143 W Washington St. while enjoying award winning artfully crafted wines and appetizing tidbits. New member Sarah Hurt is April's Featured Artist, and she will have incredible collages on display. Participating artists are Beverly Beighle, Melissa Doyel, Connie Drysdale, Cecilia Olivera-Hillway, Roger Huntley, Sarah Hurt, Allyne Lawson, Jerri Moore, and Shirley Rudolf.  Please stop by to meet the artists during Artwalk who love to share with viewers their technique and style.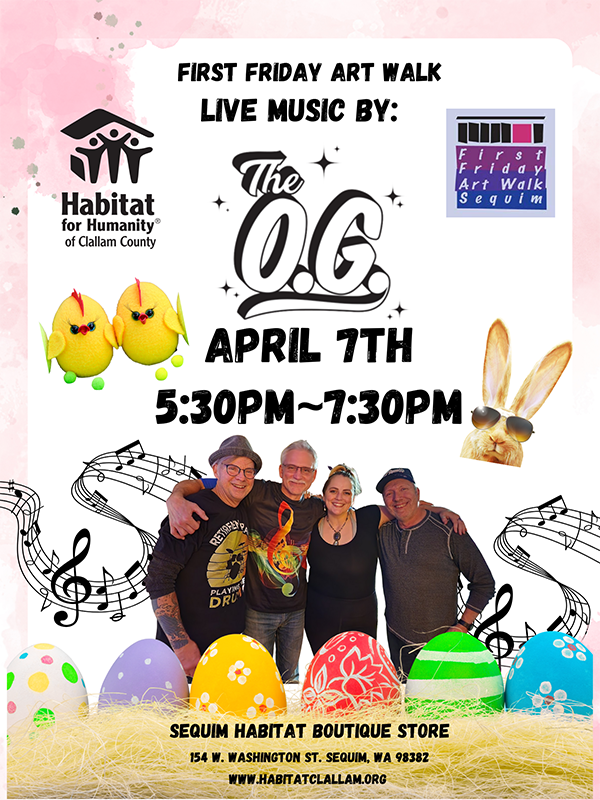 From 5:30 to 7:30 PM, Habitat for Humanity of Clallam County's Sequim Habitat Boutique Store at 213 E Washington St. has fabulous live music with OC!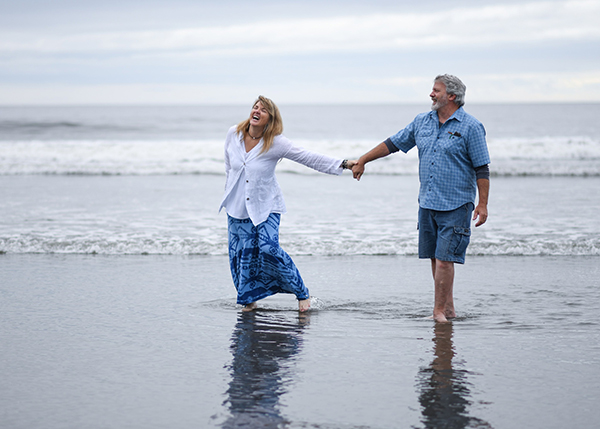 From 6:00 to 8:00 PM, Rainshadow Café at 157 West Cedar Street has live music with Dawn & Steve. Come sing your favorite songs with a full menu and drinks to enjoy. Some dancing is encouraged too.
Sequim Spice and Tea at 139 W Washington St. has unique art including glass, pottery, illustration, and photography of local artists. You can also find artful, creative tea blends, colorful and fun teapots and cups, and cheerful culinary gifts.
Soup in the Alley at 138 W Washington features a rotation of local artists, live music, and treats.
Want to participate as a venue or artist on the Official First Friday Art Walk Sequim Map, Listing, and Website, please contact Renne Emiko Brock at 360-460-3023 or renneemiko@gmail.com If you are an artist of any media, please get your information to Renne for publicity and opportunities.
Thank you for your support!
To create inclusion between venues, artists, and audience, everyone is encouraged to participate in the Art Walk's monthly themes as a fun community activity in any creative form they wish to express it. January is silver, February is red, March is green, April is pink, May is aqua, June is white, July is purple, August is yellow, September is blue, October is orange, November is brown, and December is gold.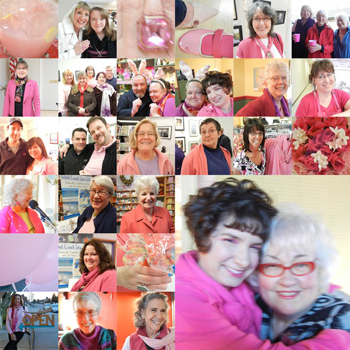 Please join our Facebook Page http://www.facebook.com/sequimartwalk