First Friday Art Walk Sequim
November 3, 5:00 – 8:00 PM
Various Venues in Sequim WA
November 3 Art Walk Color Theme is BROWN! Brown is the color of fall harvest and abundance, the turning of the leaves, sweet chocolate, and seasonal spicy treats. Brown represents steadfast alliances, community minded activities, solid assemblies, family trees with deep roots and supportive branches, and warm comforting homesteads. You will find works of art and folks supporting the option to dress in shades of bountiful brown or representations of hearth and harvest as they enjoy an evening on the town with down to earth friends and family.
First Friday Art Walk Sequim is a fun and free self-guided tour of local art venues in Sequim on the First Friday of every month from 5:00 – 8:00 PM. Visit online at SequimArtWalk.com as your resource to download and print your own map, find out what special events are happening, links, and how you can be part of art.
Initiated in 2006, the First Friday Art Walk Sequim is an encouraging and educational arts event that is sponsored and produced by Renne Emiko Brock. Our mission is to create approachable and accessible art and cultural venues that encourage the community to connect and celebrate expression and diversity.
Special Events for November 3:
Pacific Mist – Books, Cards & Gifts at 122 West Washington Street hosts author Rachel Fordham and her newest release, "The Letter Tree"! Described as "Romeo and Juliet meets You've Got Mail in 1920s New York", "The Letter Tree" is a historical romance/mystery you won't want to miss! Pacific Mist shares the love of reading and offers an eclectic mix of new and vintage books, cards, and gifts including local authors and artists.
Forage Gifts & Northwest Treasures at 121 W Washington Street features a Sweet Evening of Chocolate. The Holiday Season brings delicious smells and flavors. Join Forage for a tasting of the season with our November sweets event featuring local and regional sweets and treats from around the area.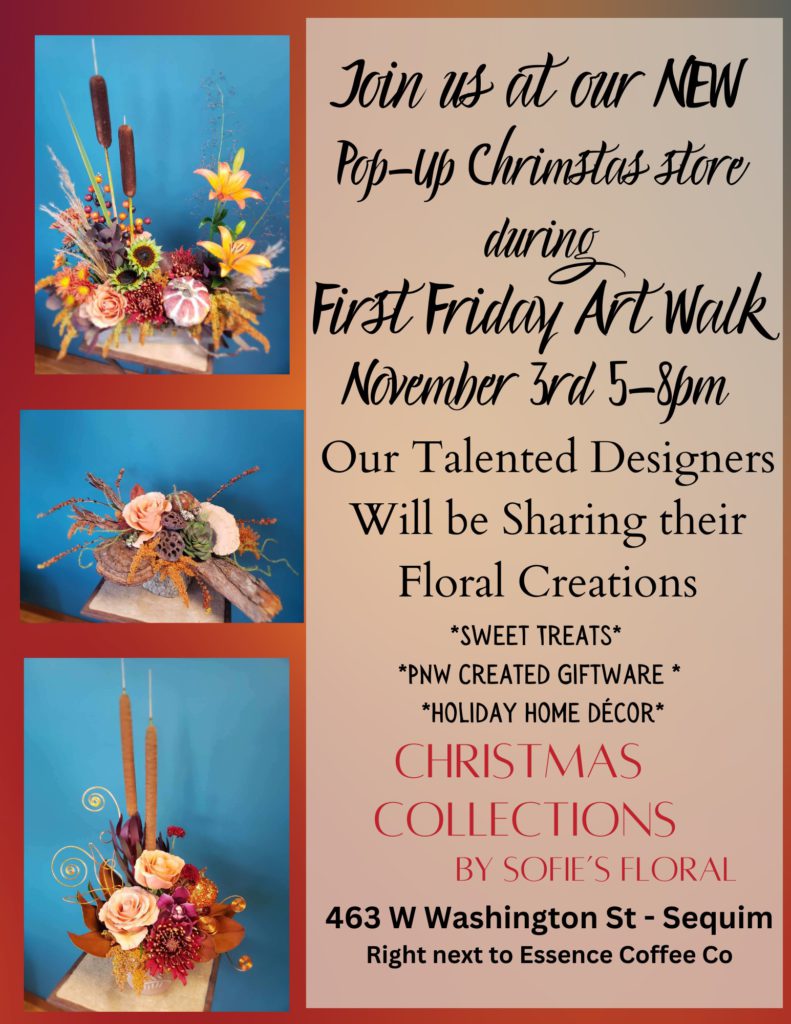 For the Art Walk, visit Sofie's Florist, Where Emotions Blossom!, pop-up Christmas store at 463 West Washington St. next door to Essence Coffee. For over three decades, Sofie's Florist has been a cherished part of our community, delivering fresh, high-quality artistic floral designs.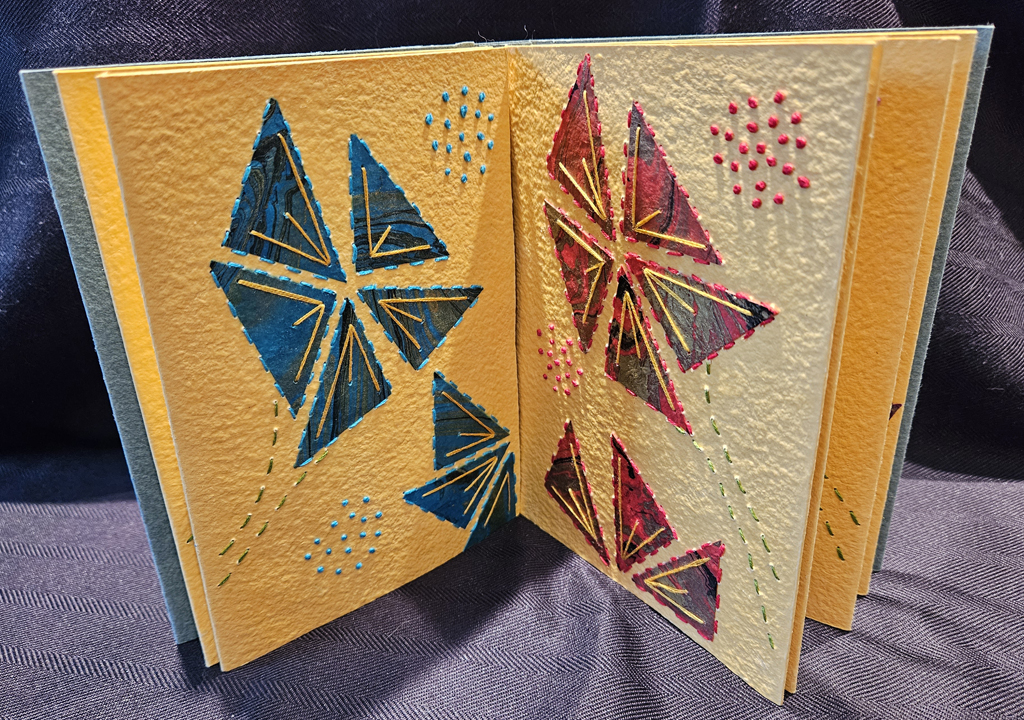 The 18th Annual North Olympic Fiber Arts Festival continues including the fiber arts exhibition "Spinning Sewn Stories – Promulgate, Piece, & Ply" at the Sequim Museum & Arts at 544 N Sequim Ave. During the Art Walk reception, many fiber artists and fiber arts advocates will be demonstrating their passion and artistry. On November 3 during the First Friday Art Walk Sequim and on November 25 for Small Business Saturday Fiber Arts Market, engage and support local fiber artists. The 2023 fiber arts exhibition artists include Lora Armstrong, Lynn Baritelle, Renne Emiko Brock, Sam Chonko, Liisa Fagerlund, Cary Bryer Fallert-Gentry, MarySue French, Lynn Gilles, Jennifer Harris, Estelle Jackson, Debra E. Olson, Sharle Osborne, Marla Varner, and Jean Wyatt.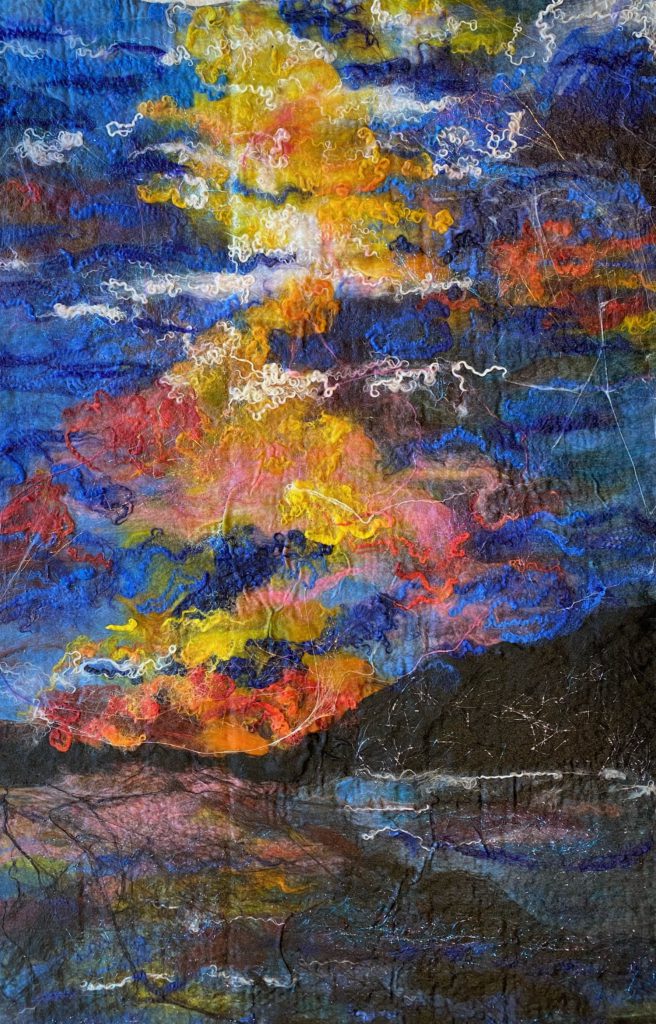 "Spinning Sewn Stories – Promulgate, Piece, & Ply" is a juried fiber arts exhibition that includes the creative and pluck feats of artistic declarations that persevere over challenges and leap beyond barriers to be produced and shared. These crafty and cunning creations tempt fate and fortune to be made and demonstrate how the artist will not be deterred and knows no limits. Fiber artworks of reinforced tales and yarns are spun from momentous consequences, family ties, and patched experiences. The choices artists make, the colors, patterns, topics, and materials, are part of the destiny they design for themselves while outwardly influencing hearts and minds asserting their unique artistic message and championing imaginative expression.
Get a small sampling of art from Renne Emiko Brock, Jennifer Harris, and Jean Wyatt for the Strait from the Artists Studio Tour happening on the Second Weekend of this month, November 11 and 12.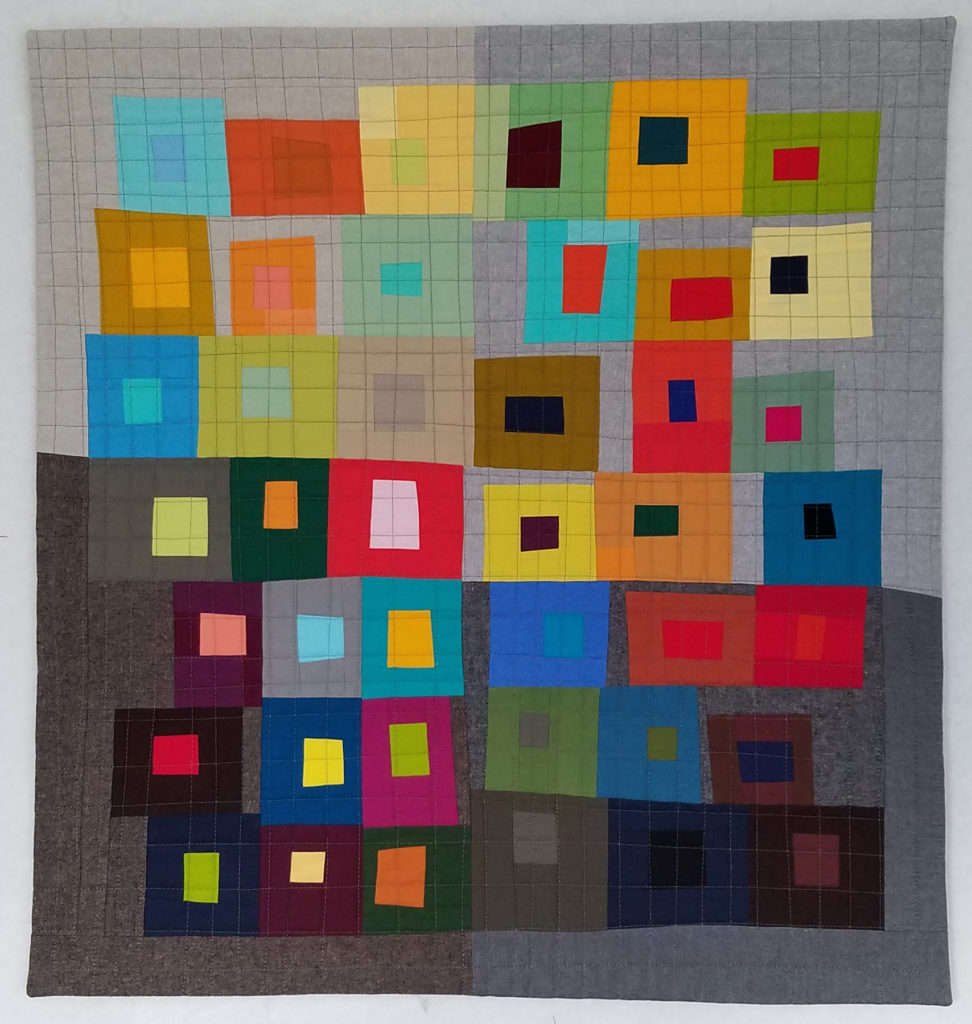 About the North Olympic Fiber Arts Festival:
The North Olympic Fiber Arts Festival celebrates its 18th year which always starts the first full weekend in October in Sequim and various events and locations throughout autumn. The North Olympic Fiber Arts Festival is an opportunity to experience positive inclusion, creative expression, and the economic enterprise of art. Always encouraging genuine growth and artistic integrity, most activities are free to the public and all forms of fiber art are welcome. Join us for this interactive fiber arts event throughout autumn connecting to the community with activities like a museum exhibition, Fiber Arts Market of local artists' work, and educational demonstrations of fiber processes. Excellent volunteers make this community event possible including several local fiber arts groups, artists, fiber friendly businesses, and educational organizations. We are grateful for their fostering natures and fiber arts talents.
Over the Fence, a destination home and garden store, at 118 E. Washington St. is hosting one of their local makers.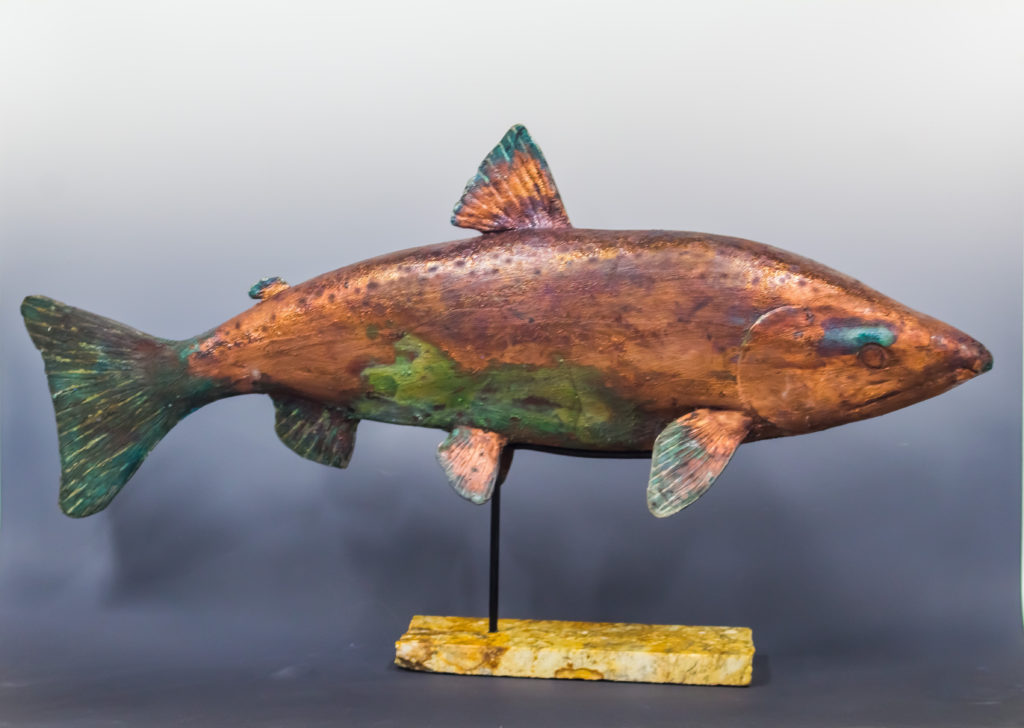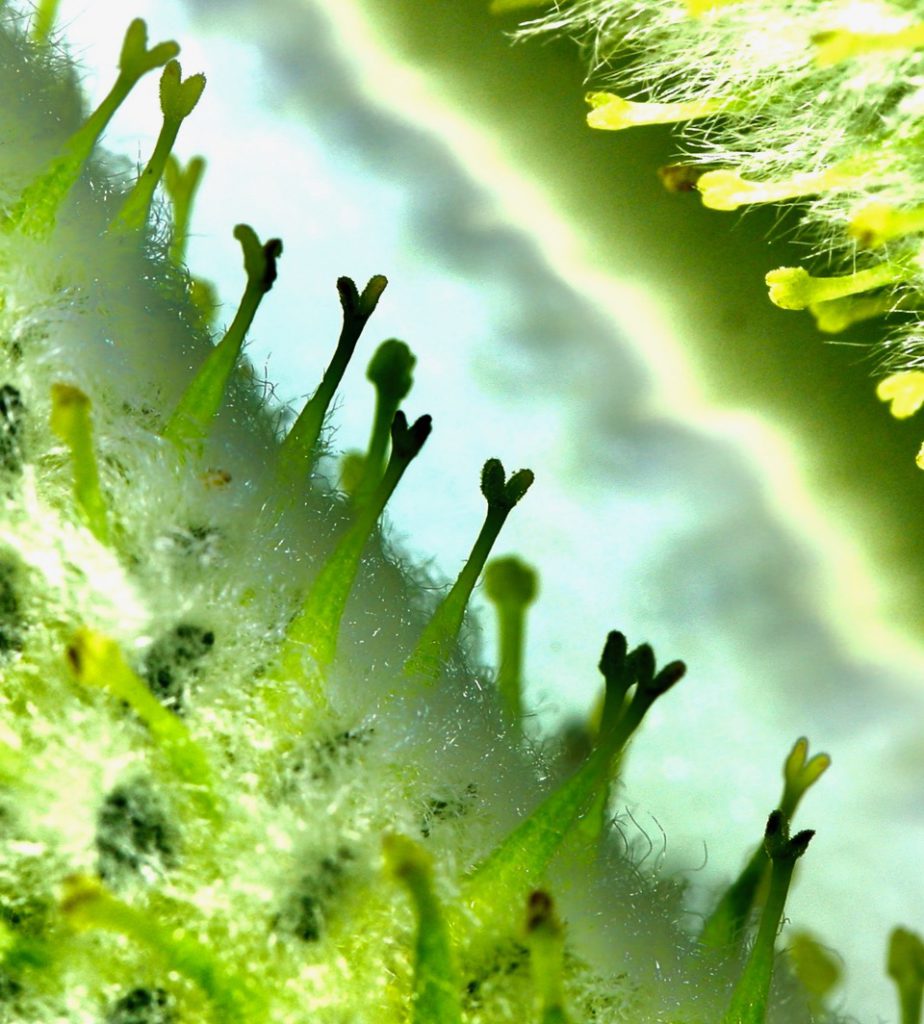 Blue Whole Gallery at 129 W Washington St. has an exhibition of featured artists Katherine Loveland and Mike Middlestead. Katherine Loveland, an award-winning photographer with an eye for storytelling through nature, will exhibit her fine art photography. She is fascinated by the abstract in nature and, occasionally, in inorganic objects. When released from the distracting familiar, her awareness is free to respond at a deeper emotional and philosophic level. Loveland uses repetitions and variations of patterns, shapes, textures, and colors to produce tactile sculptural images. During her thirty years as a clinical psychologist, she frequently used the power of the image to enable patients to access deeper self-awareness. It is her hope that her images evoke similar responses in the viewer. Mike Middlestead is a gifted ceramic artist specializing in stoneware and earthenware pottery and sculptures. After 25 years of service in the U.S. Coast Guard, Mike returned to school to study environmental science. During an Introduction to Art class, he discovered ceramics and hasn't looked back. Sculptural work has recently consumed most of Mike's efforts, and his love for water and the environment is a focal point for his forms. A large installation piece called "Market Price" was purchased by the Peninsula College Foundation and can be found on permanent display at Peninsula College.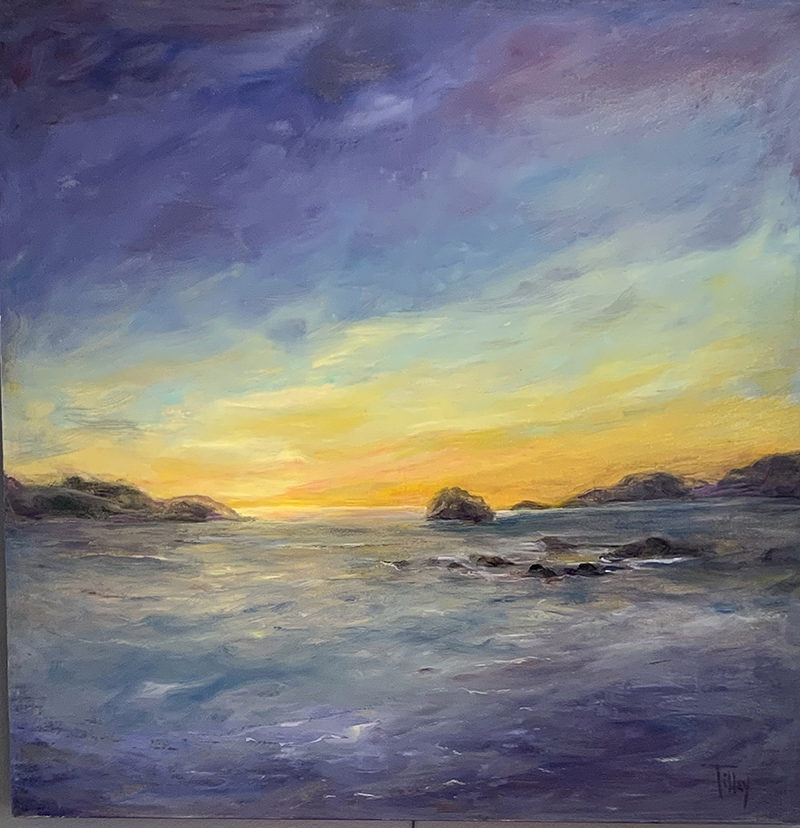 The A. Milligan Art Studio and Gallery at 520 N. Sequim Avenue hosts guest Linda Tilley and enjoy some refreshments and treats while you have a look at the newest artworks that have been added to Linda's exhibit. Linda primarily paints in oil and is drawn to paint "en plein air", inspired by the energies of the world outside. She's a gifted artist with a masterful use of color and ability to capture the mood and feel of the seasons and weather around us. Her most recent plein air outings have been to Marrowstone Island and John Wayne Marina. As you look at her paintings, you can almost taste the crisp salty air, and feel the dampness of the lifting fog on your skin. Her exhibit in the Main Gallery immerses you in the serene beauty of the natural world surrounding us. You're sure to recognize familiar scenes from around our unique and beautiful Pacific Northwest. Linda is an award-winning artist who is continually learning and honing her skills. Her work has been juried into multiple regional shows and exhibitions; and her paintings are appreciated in private collections across the United States. While you're at the gallery, you're always welcomed to take a look into Anne Milligan's working studio. Have a sneak preview of the new collection of small paintings in progress that Anne is creating for the Strait from the Artists Studio Tour happening on the Second Weekend of this month, November 11 and 12. Overflow parking is in the paved lot on the south side of the Museum.
La Petite Maison Blanche at 213 E Washington St. features artist Corinne Humphrey. Her vibrant paintings are inspired by former rescue mutts Rudy and Adobe. Like most dogs, they have much to teach us about life, love and silly exuberance if we'll only listen. Corinne shares, "Anyone can teach their dog to sit, stay or speak, but did you ever stop to think about what your dog could teach you? " If you haven't strolled down to this new venue, it is worth the small walk with samples and contains local treats and uniquely curated gifts.
Wild Goddess Brews-n-Bites at 145 E Washington Street Suite D has small bites, salads, dips, and boards. Have a comfy seat and enjoy a wide selection of beverages along with delightful live music.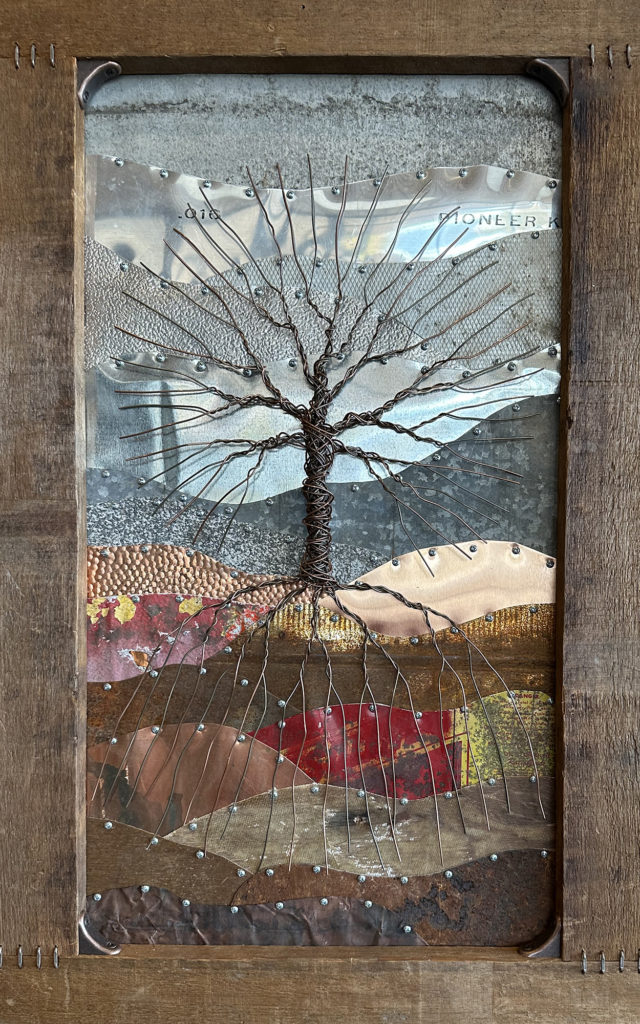 At the City of Sequim Civic Center at 152 W. Cedar Street, the City Arts Advisory Commission hosts the opening reception of "Elemental; Fire, Water, Wood, Earth, Metal, Air" on view in the Karen Kuznek-Reese Gallery. At the same time from 5:00 to 7:00 PM, the First Friday Open Music Jam happens. Bring your acoustic instrument and/or your voice and join us for an informal gathering of people who like to make music.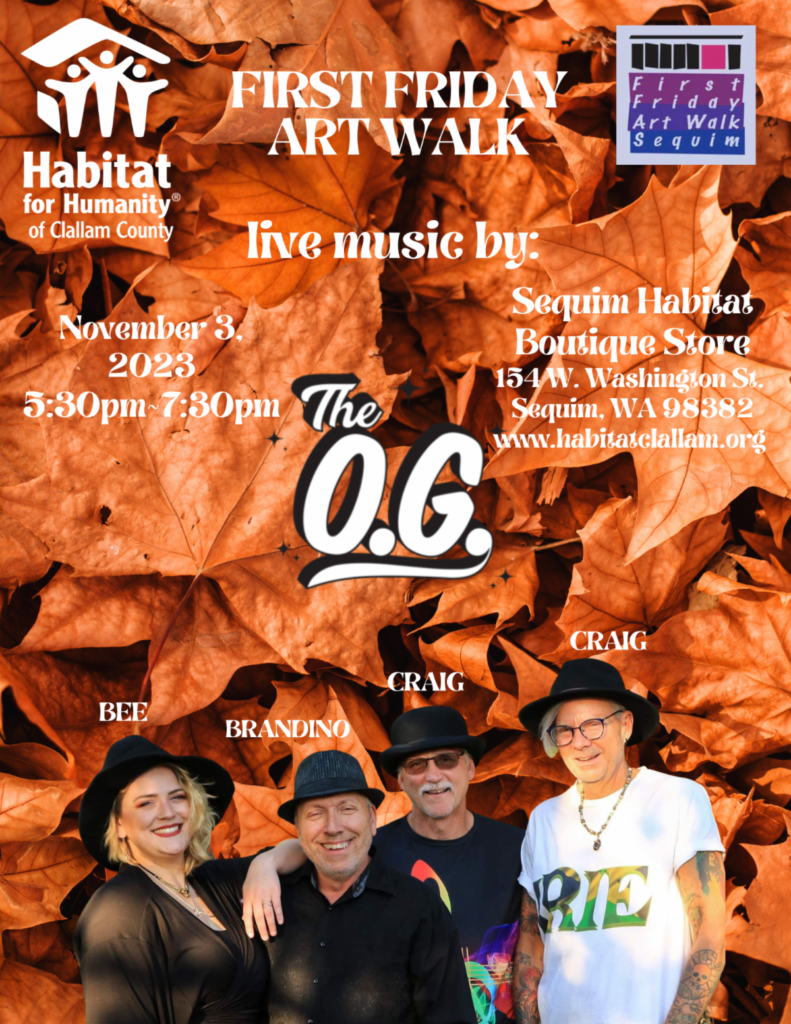 From 5:30 to 7:30 PM, Habitat for Humanity of Clallam County's Sequim Habitat Boutique Store at 213 E Washington St. has fabulous live music with OC!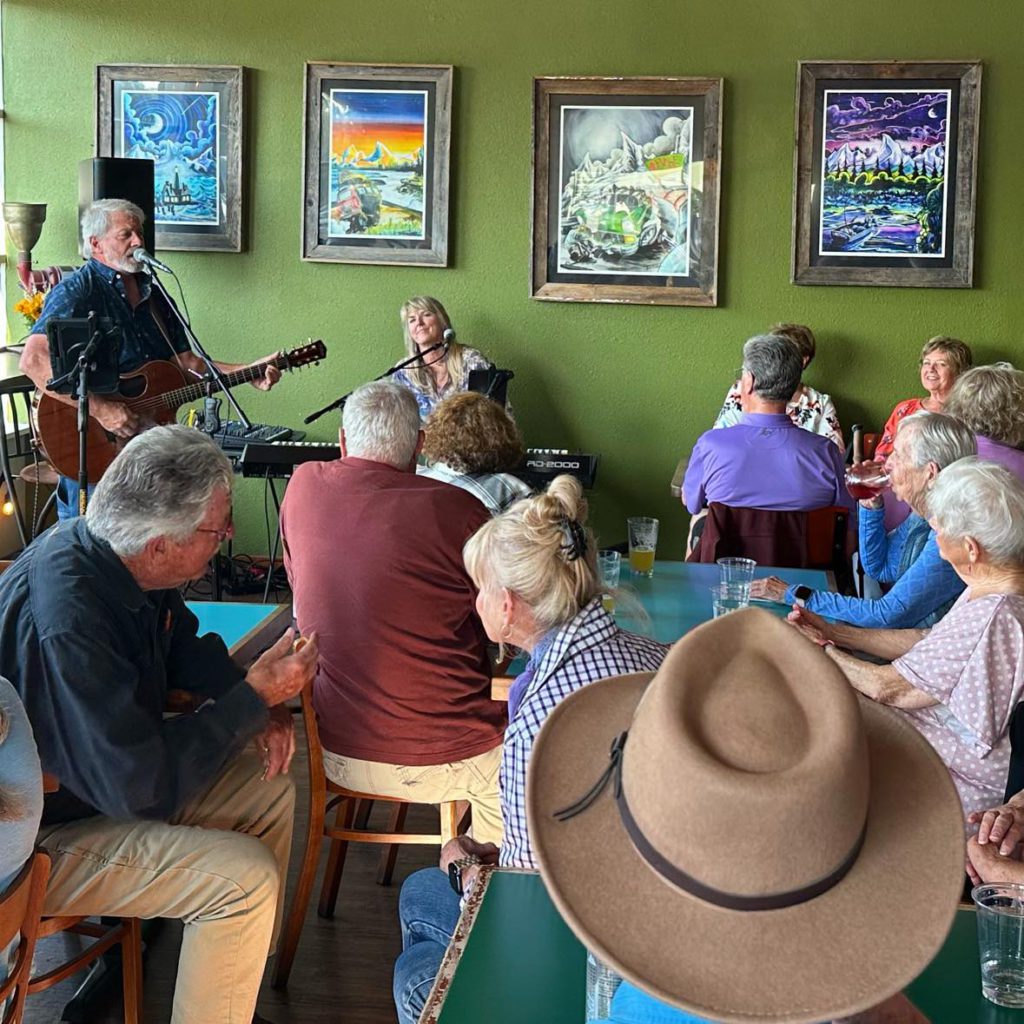 From 6:00 to 8:00 PM, Rainshadow Café at 157 West Cedar Street has live music with Dawn & Steve. Come sing your favorite songs with a full menu and drinks to enjoy. Some dancing is encouraged too.
Sequim Spice and Tea at 139 W Washington St. has unique art including glass, pottery, illustration, and photography of local artists. You can also find artful, creative tea blends, colorful and fun teapots and cups, and cheerful culinary gifts.
Locally created gifts don Cedarbrook Lavender Gift Shop at 120 W Washington Street has delightful farm fresh lavender creations, treats, and inspired vintage décor items.
Wind Rose Cellars at 143 W Washington St. enjoy award winning artfully crafted wines and appetizing tidbits. At 6:00 PM, the Key City Ramblers are rockin', bluesin', singin', and wailin' just for you!
Soup in the Alley at 138 W Washington features a rotation of local artists, live music, and treats.
Want to participate as a venue or artist on the Official First Friday Art Walk Sequim Map, Listing, and Website, please contact Renne Emiko Brock at 360-460-3023 or renneemiko@gmail.com If you are an artist of any media, please get your information to Renne for publicity and opportunities. Thank you for your support!
To create inclusion between venues, artists, and audience, everyone is encouraged to participate in the Art Walk's monthly themes as a fun community activity in any creative form they wish to express it. January is silver, February is red, March is green, April is pink, May is aqua, June is white, July is purple, August is yellow, September is blue, October is orange, November is brown, and December is gold.
Please join our Facebook Page http://www.facebook.com/sequimartwalk